Digitization can now be found everywhere and is spreading like wildfire.
I am therefore now writing a whole series of articles on the subject of digitization. My motivation behind this is that digitization means something different for every industry and type of company and I want to work out these differences. An illustration of the differences in different industries can be found in the following figure.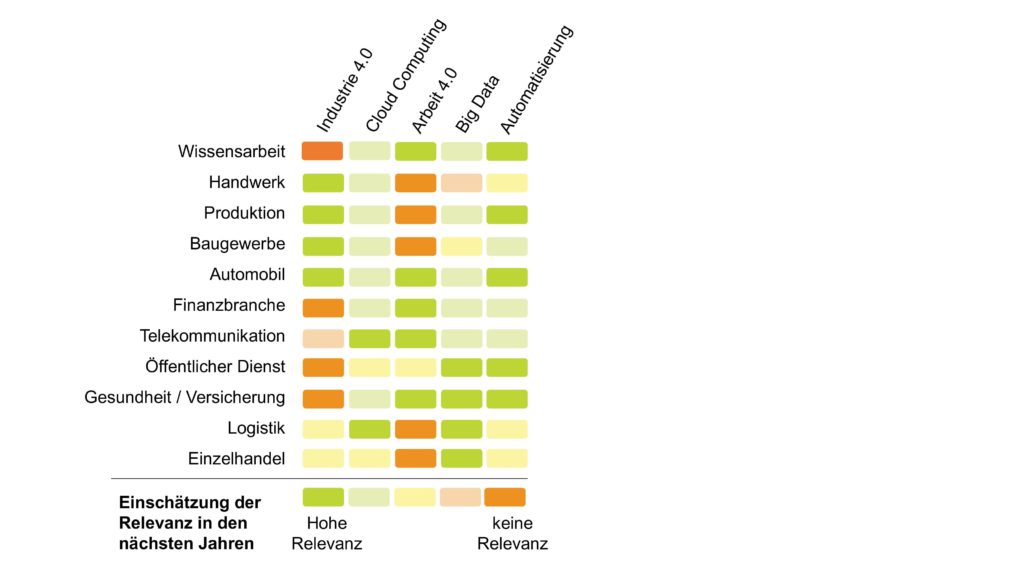 In this section I would like to go into the real gist of this article and illustrate digitization in the health and insurance industry.
Industry characteristics
The health and insurance industry consists of health systems. These can in turn be subdivided into networks with different actors, such as health insurance companies, medical associations or hospitals. The decisions of these actors have a direct or indirect influence on the national health status. Since many different institutions and actors have an influence, great flexibility has always been required from the health and insurance industry. Nevertheless, agile methods have so far only received little use. Digitization, on the other hand, already determines a large part of everyday life in this industry and enables cross-divisional linking of health-related products.
In addition, the technological progress in the medical-technical field and the demographic change and the trend towards a healthier lifestyle are putting increasing pressure on the industry. In the future, it will have to react even more flexibly and agile, by pushing the digitization in this area, in the form of work 4.0 or the automation of processes, even further.
The current digitization in the health and insurance industry
Digitization has long since arrived in the health and insurance industry and ensures flexibility and automation of various processes.
For some time now, online appointments or the use of the electronic health card (eGK) as proof of insurance when visiting a doctor have been common practice. In addition, more and more players in health systems offer access to electronic patient files or the issuing of electronic prescriptions. As part of the E-Health Act, which came into force in 2015, online interactions such as online advice are also protected.
Benefits of digitization in the health and insurance industries
In the future, digital technologies should help even more to deal with challenges such as demographic change or the spread of chronic diseases. In addition, one promises to be able to optimally supply rural areas with digitization. For example, through a comprehensive exchange of information. With the help of agile methods, more efficient patient care should also be guaranteed. This is to be achieved in particular by promoting telemedicine. This can help with electronic applications, such as B. electronic patient files or medication plan to use as a basis for better medical care.
In addition, the health and insurance industries will increasingly rely on technological aids such as big data and artificial intelligence. For example, special apps for this industry should not only optimize the exchange with the patient, but also contribute to massive time savings and an improved workflow.
Tip:
If you are as excited about this topic as I am, then you can find the entire article series here !

I offer guest articles and influencer marketing!
You have your own, interesting thoughts around the theme world of the blog and would like to share them in a
guest article
on my blog? - But gladly! You can thereby address customers and professionals. I also offer
Influencer Marketing
to support your brand!
Gendernote:
I have used the masculine form for ease of reading. Therefore, unless an explicit distinction is made, it always refers to women, diverse as well as men, and people of all origins and nations.
Read more
Spelling: I translated my German Blog to English - so you can also read my Recommendations. Please be sorry if this English is not so good.

Image source: pixabay.com
Image-Source Titlepicture: Fotolia.de 2016 –
buyed License