You know it: You have a suggestion for improvement and you approach specialist teams or managers and nobody listens to you. That can be frustrating and as a manager you probably know the problem: You want to make your company more agile, but nobody has time.
I would like to explain in more detail what happens to individual employees when you approach them with a decision or suggestion. To do this, we imagine that our receptivity and stress level is a glass that only has a certain capacity. I illustrate this using the example of the decision: "We are now doing agile!".
Look at the picture. Our employee (project manager) is currently slightly stressed. He has a lot to do in the project and is a little sick (therefore two stress bars). Now the management announces it: from next week you will do Scrum and will be the Scrum Master in your project.

After this decision, our employee is significantly more stressed. His health is in poor health, the project is stressful and he has to deal with the agile transformation (4 stress bars). Now the question arises: Was this the right time to announce this decision?
But one thing is clear: You can prepare for a stressed employee who no longer has time for other things. He is currently "too busy to improve". It is therefore advisable to approach employees who have their heads free for them with suggestions and agile ideas.
Agile transformation – this is how the teams react
Now let's look at the same representation at the team level. You can see two teams in the picture. One team is not stressed and has air because the customer is currently very calm and another team runs from escalation to escalation. You now announce to both teams: "We'll be agile from next month!"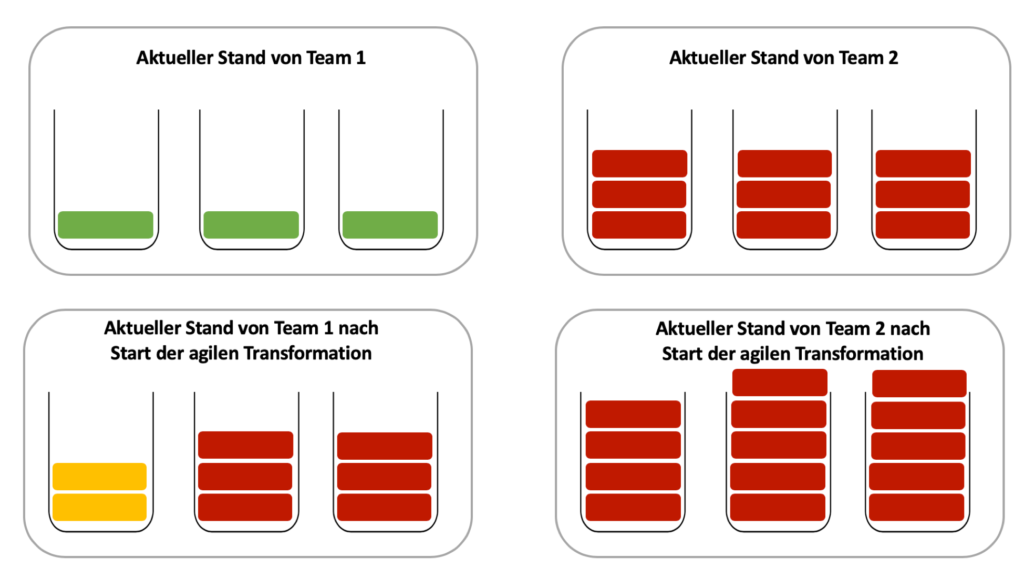 Now announce the decision to both teams and notice that the stress level is significantly higher. Team 1 gives full power and can handle the agile change alongside day-to-day business. Team 2 is stressing the transformation so much that all members are very stressed and in good German "turn their heads" and oppose the change. Two of the members are even well above the stress level and call in sick. This means that the agile transformation in Team 2 may also fail.
Conclusion: Too busy to improve
The agile transformation takes strength and is usually carried out alongside day-to-day business and can overwhelm the organization. There are therefore 2 tips for you as a manager or change agent:
Start with teams that have low stress levels.
Make sure that teams with high levels of stress are given time.
Finally, I will give you two reading tips on how you can concretely tackle agile change with the help of existing frameworks.
Reading tips :
Image source: Business photo created by jcomp – www.freepik.com
I offer guest articles and influencer marketing!
You have your own, interesting thoughts around the theme world of the blog and would like to share them in a
guest article
on my blog? - But gladly! You can thereby address customers and professionals. I also offer
Influencer Marketing
to support your brand!
Gendernote:
I have used the masculine form for ease of reading. Therefore, unless an explicit distinction is made, it always refers to women, diverse as well as men, and people of all origins and nations.
Read more
Spelling: I translated my German Blog to English - so you can also read my Recommendations. Please be sorry if this English is not so good.

Image-Source Titlepicture: Fotolia.de 2016 –
buyed License