"It's a trend that is gaining more and more followers in both the private and business sectors: outsourcing IT services such as data storage, computing power or application software so that you don't have to work with your own hardware and software." such a Article on Heise . Cloud computing is: "Generally the provision and use of IT infrastructure such as storage space, computing power or software via the Internet. The idea behind this is to make these IT infrastructures available via a computer network so that they do not have to be installed on local computers . " (Hot ).
Cloud computing is a hot topic, especially in medium-sized companies, and offers numerous opportunities and advantages. Already in mine Study on the digital workplace all participants showed that they were interested in the subject of the cloud. Therefore, this article discusses the opportunities and advantages of cloud computing. At the end you will also find a further article on the risks of cloud computing.
Real-time scalability of IT
With cloud computing, resources can be booked quickly that are needed at the moment. Brings as an example Real IT the Flickr platform: "Small companies don't have to build an infrastructure, they use the services of the cloud. And they can book the resources they need as needed. Flickr, the platform for sharing photos, for example, saves all data in the Amazon cloud. This allowed the developers to concentrate on the programming of the system and Flickr was able to grow continuously without there being a bottleneck in the storage capacity. " This is definitely one of the greatest advantages of cloud computing.
Increased agility in the IT organization
In addition, there is of course an increased one Agility in the organization of IT. Infrastructures can be individually adapted and new software can be introduced more quickly. It can therefore even be a decisive competitive advantage. Even short-term capacity bottlenecks can be compensated directly without high investment costs.
Work when, where and how you want!
Furthermore, through mobile hardware and software, the Vision of New Work : Work when, where and how you want to be implemented. Work 4.0 allows you to access the data at any time from your home office, cafe or pool and work indefinitely. On the one hand, skilled workers can work together worldwide and the workplace can also be individually adapted to the needs of the skilled workers. I see this as one of the greatest opportunities and benefits of cloud computing.
Less IT administration
Another advantage is the savings in personnel and administration, since the infrastructure is managed and maintained by the service provider. As already mentioned, this allows an entrepreneur to concentrate on his core business. For example, a doctor's office should focus on healing patients rather than solving complex IT problems.
Conclusion: scalability and agility
The opportunities and advantages of cloud computing are numerous and I could only name a few here. In addition to scalability, costs and personnel can be saved, agility increased and the attractiveness for skilled workers increased.
Reading tip: Cloud Computing Risks
Of course, as always, not all is well and there are numerous disadvantages of cloud computing. So read my other article on cloud computing to get to know the other side of the coin. In this way you can get a comprehensive picture of cloud computing.
Tip: Book suggestions to cloud computing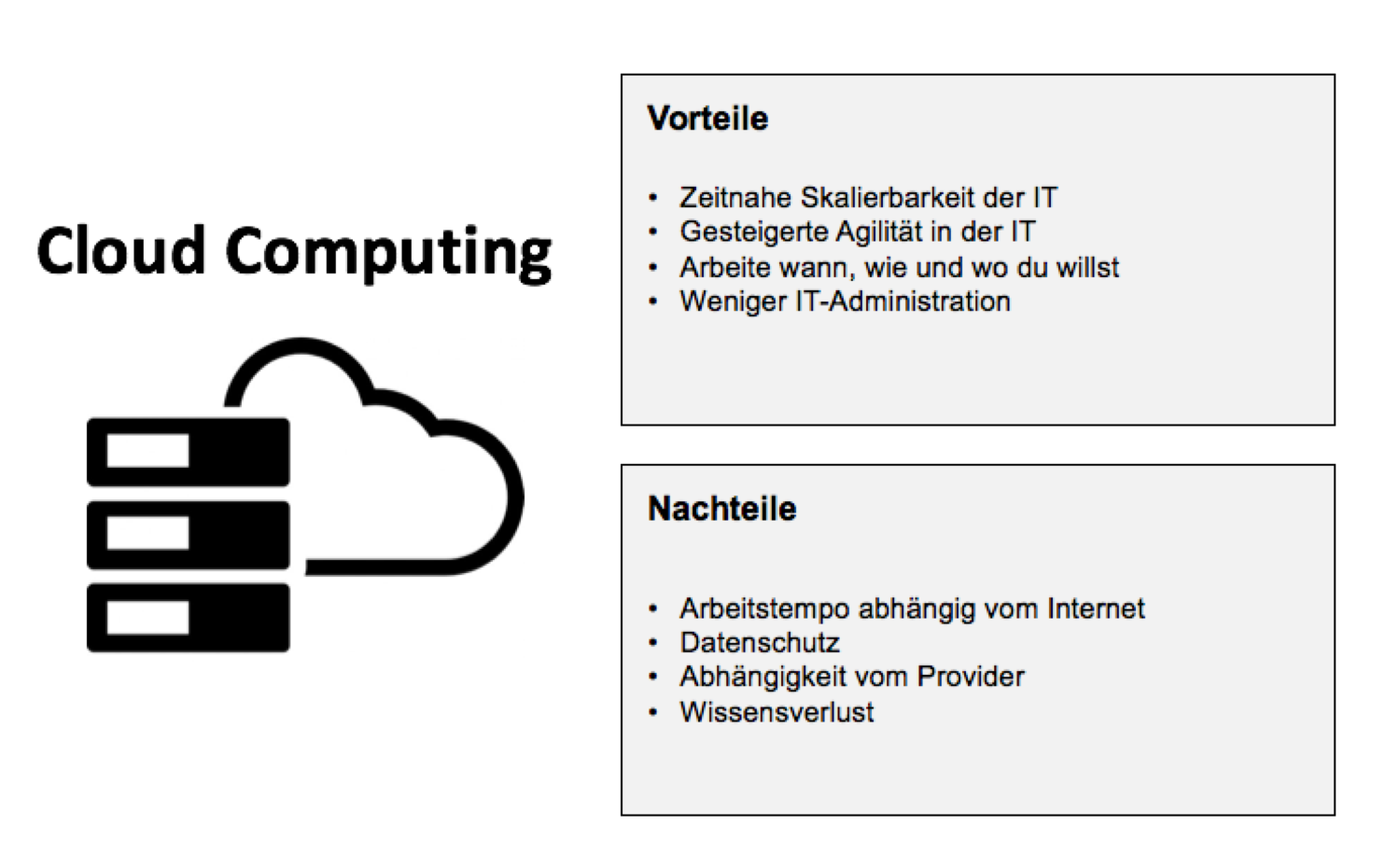 I offer guest articles and influencer marketing!
You have your own, interesting thoughts around the theme world of the blog and would like to share them in a
guest article
on my blog? - But gladly! You can thereby address customers and professionals. I also offer
Influencer Marketing
to support your brand!
Gendernote:
I have used the masculine form for ease of reading. Therefore, unless an explicit distinction is made, it always refers to women, diverse as well as men, and people of all origins and nations.
Read more
Spelling: I translated my German Blog to English - so you can also read my Recommendations. Please be sorry if this English is not so good.

Verwendete Quellen anzeigen
Image-Source Titlepicture: Fotolia.de 2016 –
buyed License