"Cloud computing includes technologies and business models to make IT resources available dynamically and to bill their use according to flexible payment models. Instead of operating IT resources, for example servers or applications, in the company's own data centers, these are demand-oriented and flexible in the form of a service-based business model available over the Internet or an intranet. " (Source Gabler Lexicon ).
As a trend term, cloud computing seems to offer endless possibilities, but it also offers numerous risks and disadvantages, which will be discussed in this article. At the end I will also show a further article on the opportunities of cloud computing.
Work pace depends on the internet
Of course, if you work in the cloud, you work online. Working online inevitably means that you need a fast internet connection. Even if our government is currently negotiating the expansion of broadband, in many rural areas there is still no suitable infrastructure for the cloud and even during the train journey, many notice that sometimes it is not even possible to make continuous calls.
data protection
Another point is of course data protection. Since there are no uniform standards for the cloud, it cannot currently be assumed that it is completely secure. Hackers can read out, manipulate or otherwise use sensitive data to harm the company. It is therefore important to carefully evaluate whether the provider can offer sufficient security. This point is also discussed in all sources as one of the major drawbacks of cloud computing.
Dependency on the cloud provider
You have to look for a suitable IT service provider for your cloud. The cloud therefore has another disadvantage: the dependency on a service provider. That says about that AstMasters portal : "When renting any kind of service, there is always a dependency. If you have rented the services and the provider raises the prices at some point, moving to a new provider will cost a lot of time and money: There are no uniform standards for cloud computing and your own IT is set up on the standards of the now more expensive provider. "
Loss of knowledge
Another disadvantage of addiction is the loss of knowledge. Because if you don't do something yourself, you won't learn anything. You probably know the saying that you don't learn to drive a car as a passenger either. That's what it says AStMasters portal : "You forego IT knowledge in your own company. If the provider's services fail, you either have no staff or not enough staff to compensate for this. If you already have your own IT department, its employees may not be very motivated to accompany the transition, which can lead to problems with implementation. "
Conclusion
It turns out that in addition to the big issue of data protection, there are of course a lot of other risks behind the cloud. A special point is the loss of knowledge and control due to the dependency on the cloud provider. This should therefore be taken into account when making the selection and proactive measures against it should be initiated. One possible solution can be the careful selection of a suitable cloud provider.
Tip: Book suggestions to cloud computing
Of course, as always, not everything is bad and cloud computing also has many advantages. There will soon be a follow-up article on this, which will be linked here in the blog. The illustration already shows a preview of the advantages and a summary of the disadvantages of cloud computing.
Tip: benefits of cloud computing (from 01/29/2018)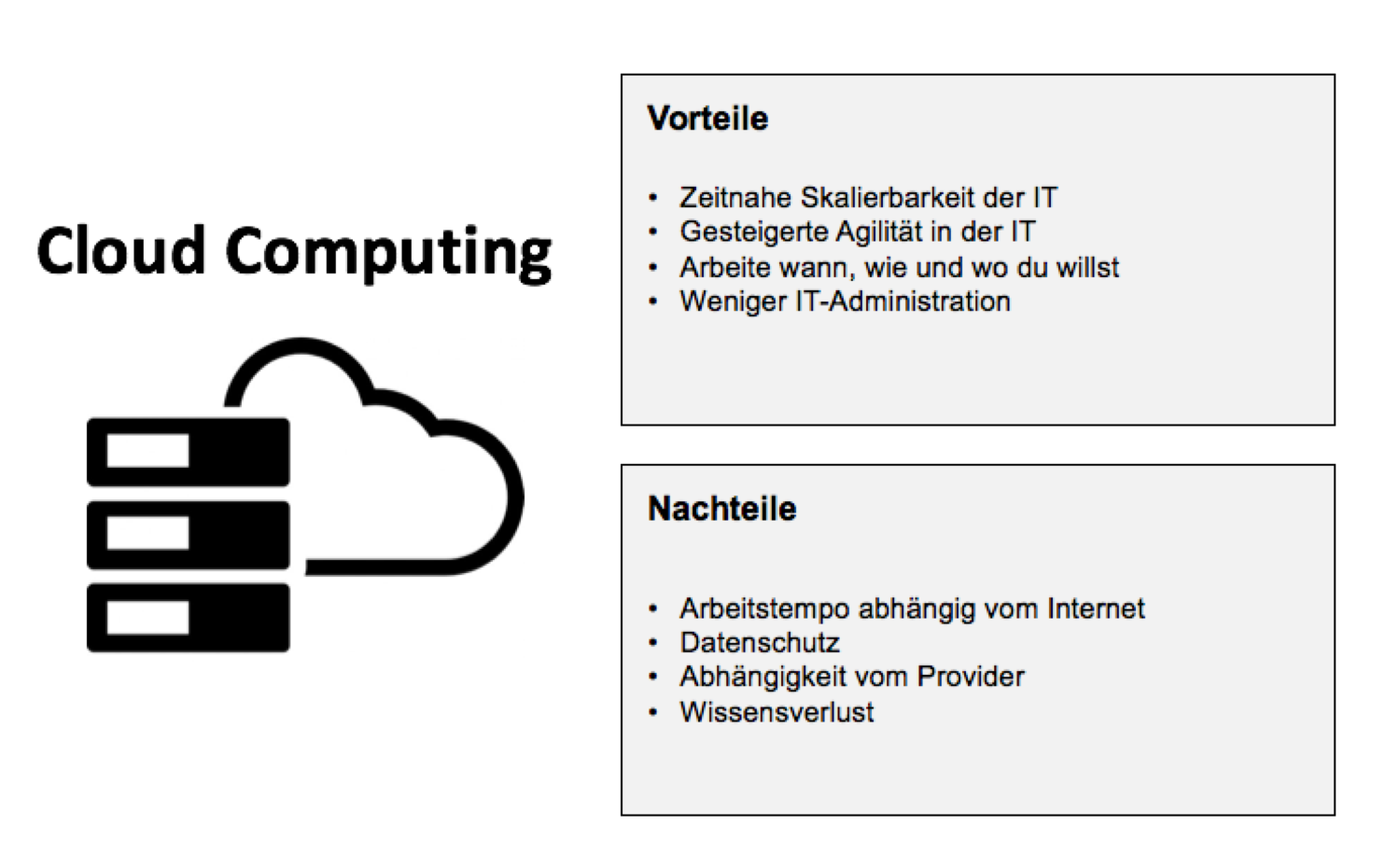 I offer guest articles and influencer marketing!
You have your own, interesting thoughts around the theme world of the blog and would like to share them in a
guest article
on my blog? - But gladly! You can thereby address customers and professionals. I also offer
Influencer Marketing
to support your brand!
Gendernote:
I have used the masculine form for ease of reading. Therefore, unless an explicit distinction is made, it always refers to women, diverse as well as men, and people of all origins and nations.
Read more
Spelling: I translated my German Blog to English - so you can also read my Recommendations. Please be sorry if this English is not so good.

Verwendete Quellen anzeigen
Image-Source Titlepicture: Fotolia.de 2016 –
buyed License