Why agile marketing?
"The basic idea of marketing is the consistent alignment of the entire company to the needs of the market" ( Gabler Lexicon ). Markets in particular are very unstable these days and are constantly subject to new trends. It is precisely to these that modern marketing has to react. Consumers are now also exposed to a great flood of advertising messages. As a result, many customers actually no longer perceive advertising properly. Experts are therefore calling for new ways and methods for modern marketing.
But how is modern marketing defined and how agile should my marketing be? In the following I would like to introduce two trends from the literature and try to interpret how agile marketing can help companies.
Marketing 3.0
Kotler et al. (2010) defined this new type of marketing with the slogan "From customer to person". To illustrate this development, they published the following table: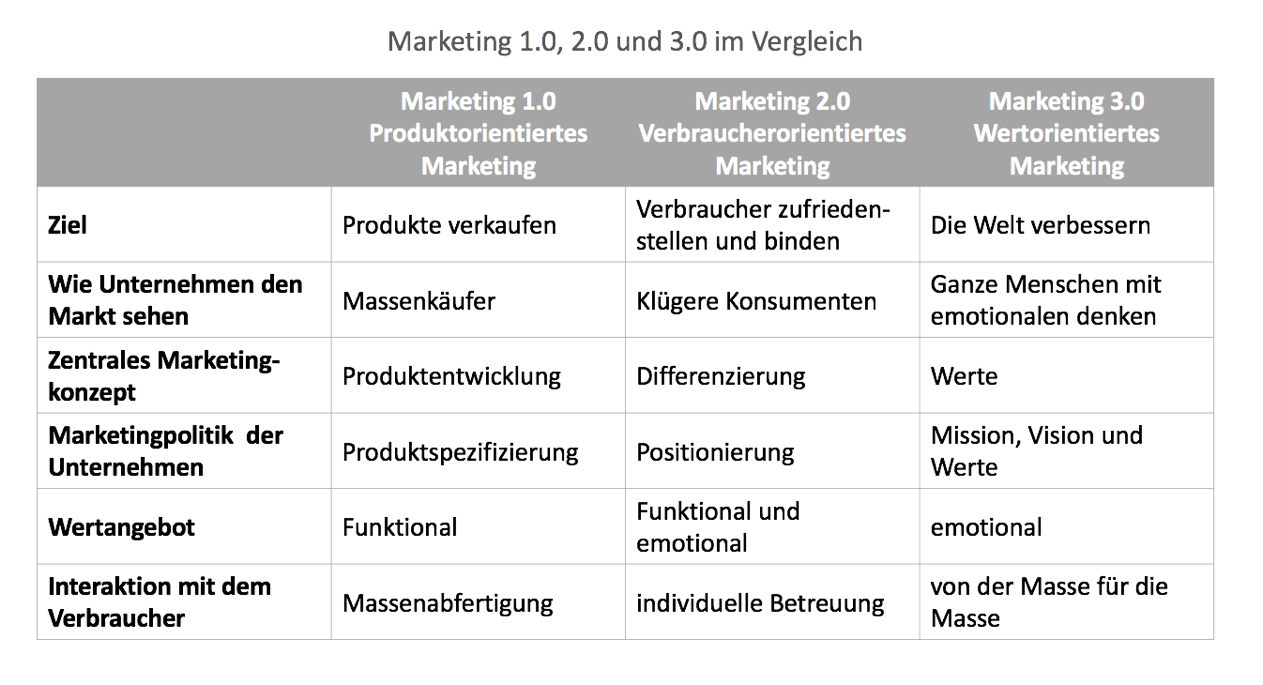 The table clearly shows where it should go: The focus has shifted from simply selling the products to "improving the world". Companies convey values and address customers emotionally. The mere placement of products has faded into the background due to the constantly changing trends. So we are heading towards a holistic approach, the focus of which is on people with their needs, values and goals. But what does this look like in concrete terms and what is agile about it?
Content marketing as agile marketing?
Content marketing appears as one of the solutions to this new type of marketing. Based on current research, that sounds logical. Why? The graphic above clearly shows that we are in an age of co-determination and cooperative marketing. Easy access to the Internet makes it easier, cheaper and faster to publish content. It also shows that people act more creatively and that user-generated content is no longer just a buzzword.
So it shows that customers are looking for high-quality content and the process of publication has also become much easier. Whether as an infographic, white paper or blog article – anything can be exciting for customers. Good content therefore awakens an association with the market without any product marketing. Especially in the B2B and consulting area, expertise and specialist knowledge can be perfectly represented with content marketing.
Push to pull
So a paradigm shift takes place. While we used to be bombarded with advertising, we now get it ourselves. You can see it in this simple example: I want to buy a television and look on Google for articles with the search term "Buy TV tips". Such content persists for a long time because it is shared virally and voluntarily by users. Good traffic figures are also possible over the years.
Establish editorial processes
But how exactly can this actually be implemented in the B2B or B2C area? In the first interviews I found out that it is not enough to just hire a few journalists. Journalists are definitely important for preparing the content and ensuring quality. However, editorial processes are also important in the company. In the course of the research project, I observe some companies that involve their employees in order to write joint findings as white papers or articles and publish them on a blog.
A fundamental part of these editorial processes is agility. Content should be improved permanently and iteratively. Understanding the ever changing needs of the customer is an ongoing process of trial and error. So our article about TV sets has to be constantly adapted to new trends.
Tip: I'll be happy to help you Marketing for your company
Examples of agile marketing
The blog NetPress shows 3 examples of how agile marketing can work. I will briefly summarize these here so that the academic explanations are clearer.
Example one shows the superbowl. It's the biscuit maker Oreo. So says NetPress: It is now the prime example of agile marketing. Within just eight minutes, Oreo had responded to the power failure during the Superbowl with an original and funny tweet, which generated enormous reach on social media.
In the second example, a student came on a free dream trip. As the blog Netpress says: A student challenged the company with a bet. Her goal was to get a sponsored vacation trip from Neckermann if her post gets more likes than Neckermann fans on Facebook. Within five hours the post had already 15,000 likes and after 14 hours the mark of 133,000 was exceeded. A great increase in reach and sympathy – the bet was a topic in the media for days.
Example three is a software company called Matrix42. They selected topics for content marketing in small sprints and analyzed trends in the process. The aim was just-in-time content provision and distribution, parallel to the Matrix42 product reviews, which take place in a cycle of 4 to 6 weeks. After each sprint, the best articles were identified and based on them. Likewise, I work on this blog, as far as my research can allow.

I offer guest articles and influencer marketing!
You have your own, interesting thoughts around the theme world of the blog and would like to share them in a
guest article
on my blog? - But gladly! You can thereby address customers and professionals. I also offer
Influencer Marketing
to support your brand!
Gendernote:
I have used the masculine form for ease of reading. Therefore, unless an explicit distinction is made, it always refers to women, diverse as well as men, and people of all origins and nations.
Read more
Spelling: I translated my German Blog to English - so you can also read my Recommendations. Please be sorry if this English is not so good.

Verwendete Quellen anzeigen
Kotler, P., Kartajaya, H., & Setiawan, I. (2010). Marketing 3.0: The new dimension of marketing: From customer to person . Frankfurt am Main: Campus Verlag.
Image-Source Titlepicture: Fotolia.de 2016 –
buyed License