Production is "the process of the targeted combination of production factors (input) and their transformation into products (products, output)" (Gabler Wirtschaftslexikon). So far, so good – but how do you turn standardized production into agile production? Ultimately, increasing market volatility and growing uncertainty force manufacturing companies to steadily assimilate their own production concepts to changing conditions. Industry 4.0 is intended to represent the fourth industrial revolution: Smart, digitally networked systems ensure automated production. But it's not just cyber-physical systems which "upgrade" the still largely existing Industry 3.0.
AGILE production and new business models
Kaufmann (2015, p. 12) shows an initial trend with regard to agile models: The focus with this approach is not exclusively on intelligently communicating machines, but on a fundamental adaptation or even realignment of the (existing) business models. Above all, adapted products and shorter delivery times are taking a step towards agility. The main focus is on increasing quality and shortening delivery times.
Agility in Industry 4.0
The way to agile Industry 4.0 is still a long way. Kaufmann (2015, p. 15) clearly shows that this new, agile industry is still in its infancy. In order to drive further development towards fully agile production, constant cyclical reflection must take place: From machine, operating, product and business data, optimized processes must be carried out using forecasts for the piece-specific or consumption-based billing as well as for services that increase product value or additional products (value-added services) . You have to constantly learn which practices work and which don't.
In order to remain adaptable at this point, the following approaches are recommended:
Iterative and incremental development in defined cycles (e.g. 4 weeks)
Delivery of a partial product or product increment after each cycle
Feedback and correction after each cycle
Iterative changes and detailing of the product requirements after each cycle
Fixed budget and resources with variable functionality
Daily coordination of the development team, also with the stakeholders
Lean ISn't the same as agile
Even if there is a lean production characterized by very flat hierarchies and many principles act agile, is that Lean Production not completely agile in itself.
In order to be able to better serve customer demands, the production philosophy of "Agile Manufacturing" was created. In response to lean production, the focus here is primarily on meeting flexible customer requirements without incurring new costs or having to cut quality. The idea of the virtual company is the father of the thought: relationships with suppliers should be flexibly and quickly geared to the respective market opportunities.
The Warehouse control is considered to be of little relevance in agile manufacturing. The fulfillment of customer wishes and thus customer satisfaction is given more importance than the pure production volume. So that these demands can be met, needs Agile manufacturing a self-sufficient and intelligently collaborative workforce. The structure can then also be described as an "agile company".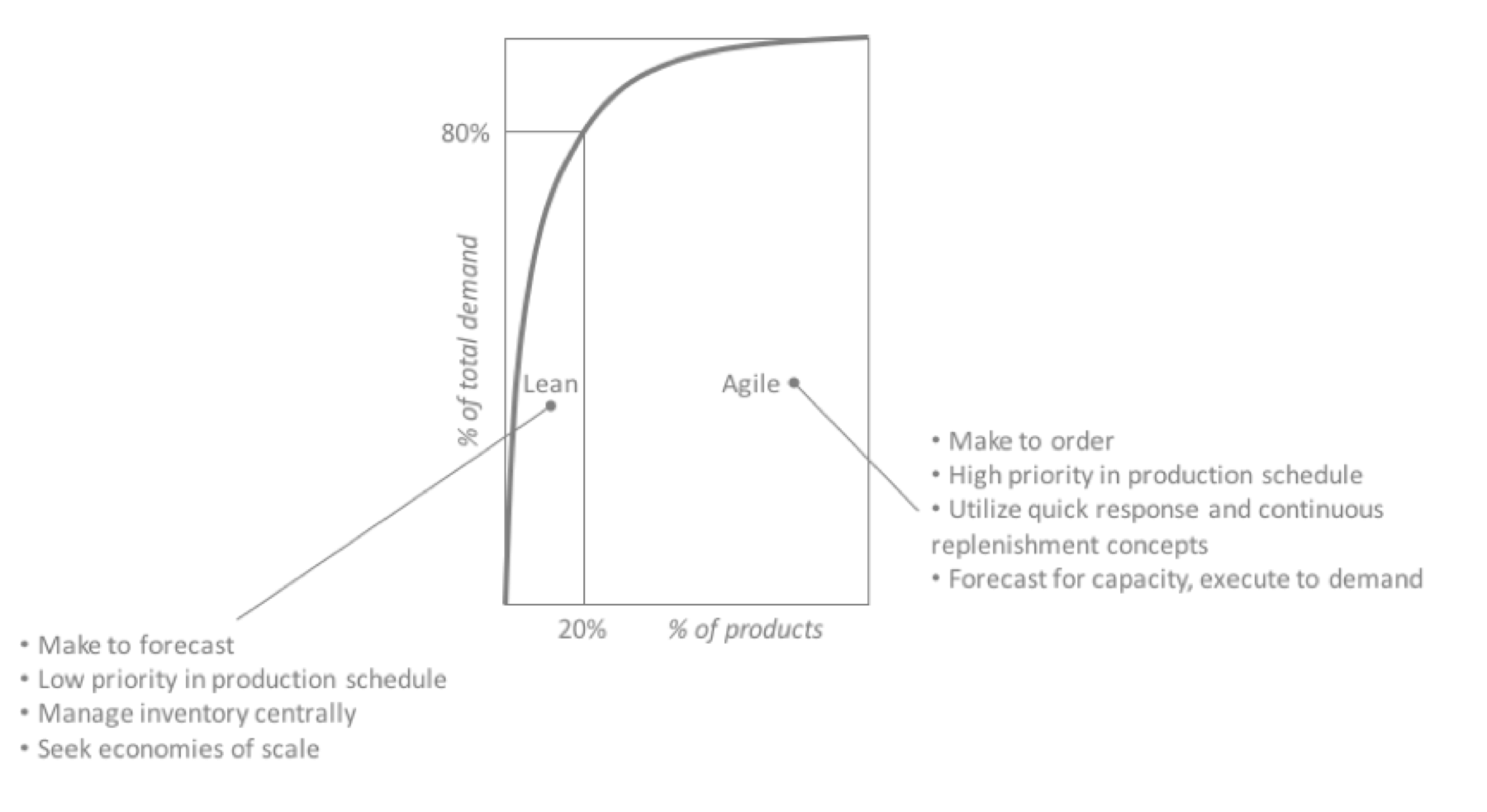 Agile manufacturing
Here says that Gabler Business Lexicon the following: Agile Manufacturing is a manufacturing philosophy that focuses on meeting customer demand through flexible manufacturing practices. Agile manufacturing emerged as a reaction to lean production. It differs in the focus on that Fulfillment of customer requests, without sacrificing quality or additional costs to accept. The idea is based on the concept of the virtual company and aims to build flexible, often short-term relationships with suppliers when market opportunities arise.
To make it clear where this trend is coming from, I recreated a graphic from Slideshare. It shows how agile manufacturing and agile logistics work together effectively. It turns out that a lot of trends have an impact and that production has a long history with many influences around lean, agile and other frameworks.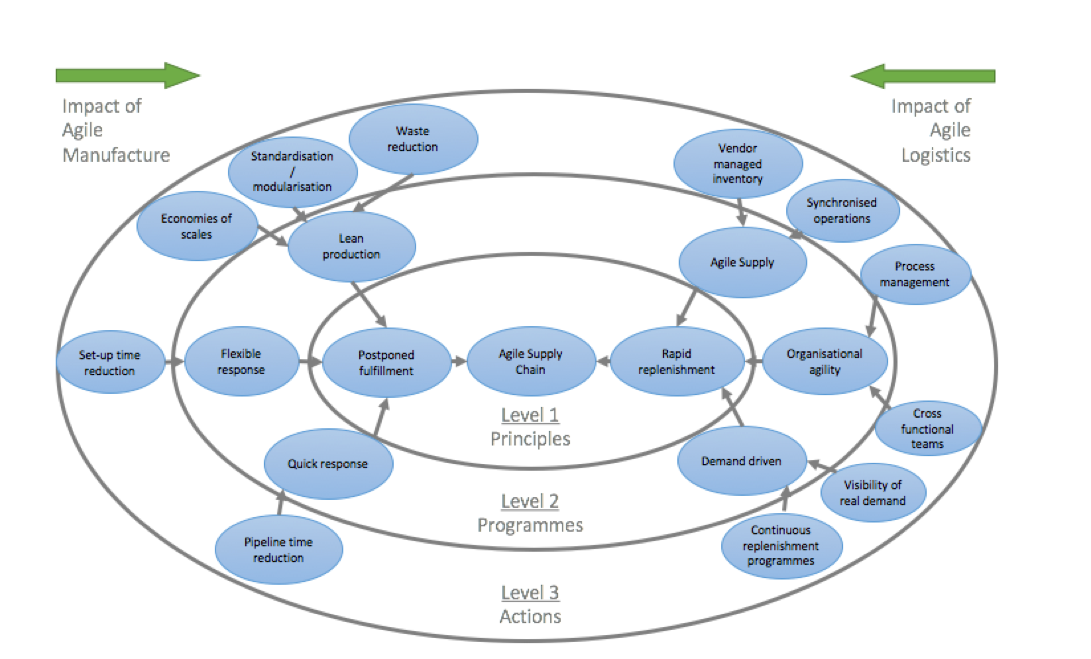 Scrum and Holacracy in production
On the Production.de portal I found the following: Scrum is the implementation of lean development for project management. The procedure has so far been established primarily in the software industry. A team works step by step across departments on the development of a new product. Due to the complexity of the project, the result cannot be precisely planned in advance. So does Scrum make an agile production?
Scrum in production? Is that possible? That's what he says items to: Scrum is now being used across the board by all teams throughout production. Small subteams meet daily on a visualization board, they discuss the work packages and the achievement of goals. In doing so, they exchange ideas about what can help them to achieve the goal. The team that takes care of the product transfer from development to production, the Production Engineering team, is now working with Scrum.
Continue to even Holacracy used in production. So Holacray as an example of agile production? The latest example is from the Cinteo company. On his Website says the company : The automotive industry is currently experiencing the most drastic change to date and has to face unprecedented challenges: New mobility requirements, new business models and sources of revenue, new competitors, new regulatory and sustainability requirements, shorter technology cycles and the additional pressure to be able to innovate faster are fundamentally changing what has been happening so far successful value creation and its management. Skills in the areas of digital customer engagement, e-commerce and business model development are critical success factors.
So Holacracy was one way of doing this for the company. So it says on the website: "Holacracy is a third way: It brings structure and discipline to a peer-to-peer workplace. For us this means: effective meeting formats, more autonomy for our employees and a unique decision-making process with constant change and improvement!"
But how does the company implement this? I looked around the website and gathered the following insights: Holacracy is implemented through vision and ideas as well as the inclusion of customer feedback in production. The idea of functional teams, which apparently produce a product end-to-end instead of just looking after a single interface, is also used. Furthermore, many cross-sectional functions were created and KPIs introduced. So much for the information on the website.

I offer guest articles and influencer marketing!
You have your own, interesting thoughts around the theme world of the blog and would like to share them in a
guest article
on my blog? - But gladly! You can thereby address customers and professionals. I also offer
Influencer Marketing
to support your brand!
Gendernote:
I have used the masculine form for ease of reading. Therefore, unless an explicit distinction is made, it always refers to women, diverse as well as men, and people of all origins and nations.
Read more
Spelling: I translated my German Blog to English - so you can also read my Recommendations. Please be sorry if this English is not so good.

Verwendete Quellen anzeigen
Image-Source Titlepicture: Fotolia.de 2016 –
buyed License