You know it when someone suggests changes and these are far from reality? The resistance is often massive and the implementation is often far too complex. Especially in an agile context, changes should be carried out directly from the classic organization to the cool start-up. But this alone is not an agile approach.
The magic word is "small steps" to the goal and then gradually evaluate and improve. One way of doing this is through maturity models. A maturity model helps to evaluate and improve processes in the company. For this case, I would like to present an agile maturity model that I like to use.
A company can often only assess the degree of maturity based on gut instinct.
Dimensions of the agile maturity model
First of all, let me introduce you to the first dimension: This is the actual degree of maturity of the organization. This has to be determined and worked on. I briefly introduce this to you. Of course, these are presented even better in the individual sections! You can find this in the picture.
It is therefore a matter of making information and communication accessible and accessible to everyone in the first step. You then optimize individual areas / teams / departments and then get on with overarching processes. Only then do you take a holistic look at the organization.
Now there are certain points to be improved in each area. I have shown this in the following figure. For each maturity level, you have key issues that you need to tackle. These are the same in every degree of maturity and are typical areas of the company. However, you approach this differently at each stage of maturity. How exactly? I will now show you in detail for each maturity level!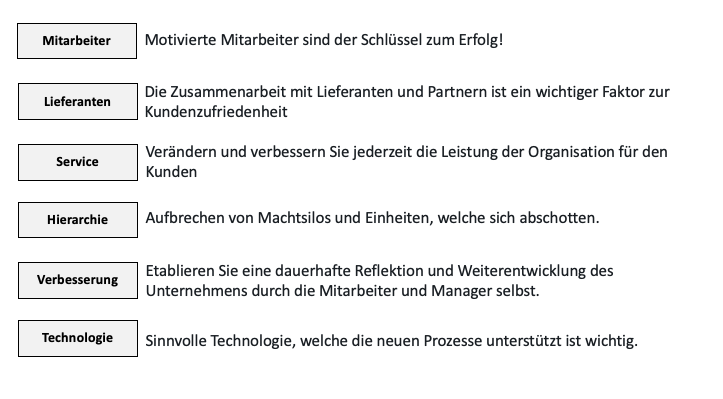 The agile and digital maturity model and its implementation
In my opinion, changes and improvements in an organization can only take place if there are defined practices and concepts that promote, build up and establish an improvement. That is why I now assign certain concepts to each dimension and focus.
Tip: Download the template here!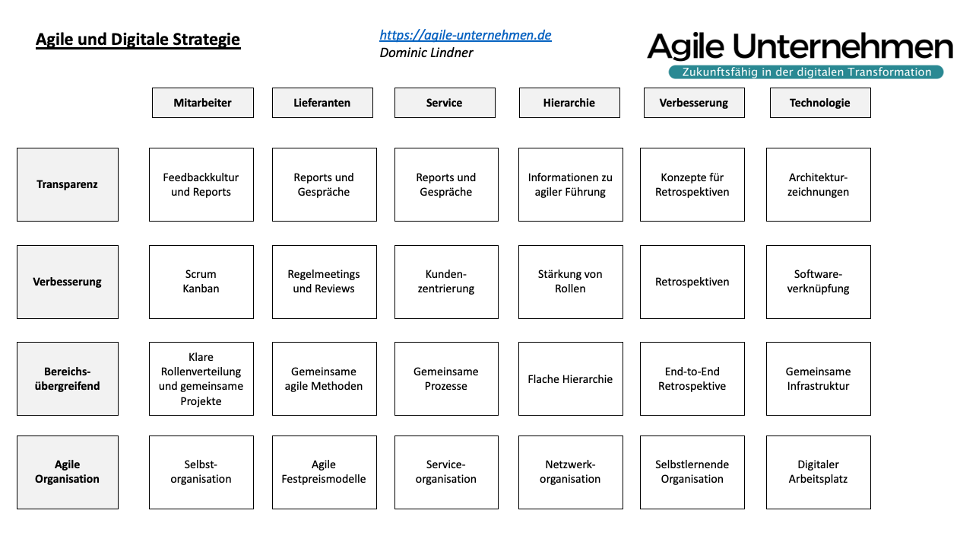 Level 1: transparency
The organization is more traditional and conventional. There is a hierarchical organizational structure. Decisions are made by individual managers and communicated along the hierarchy levels. However, the company is confronted with increasingly faster changing requirements and would like to learn how to react better to them. However, these are not yet so urgent that something really needs to be changed significantly. You recognize many stuck structures and a lot "that has grown historically, not documented and you have to know that".
The challenges
Many companies are completely optimized for manageability and control. But this is only an appearance. From the inside it is often a mess and everything has grown historically and not documented.
You will achieve little in this phase. The first step is to analyze the current situation and create transparency. Show management what is going on in the company.
The goals
Get feedback from the staff and collect the historical information.
Create reports and clear process documentation
Gather information on agility and new digital opportunities
Work out errors and potentials for the management
Level 2: improvement
Your organization continues to be traditional and conventional. You will now find the first documentation and there are clear starting points. You notice that departments are structured according to specialization and work in isolated subject areas. There are more or less regulated processes and there are a lot of documents that are difficult to oversee.
The challenges
Current processes and team performance are no longer sufficient for the tasks. The performance is not optimal and it is also transparent.
Decisions are made centrally and processes are very slow and cumbersome.
Employees generally find meetings to be inefficient and a waste of time.
The goals
Establish agile working methods (Scrum, Kanban) at the team level and develop new forms of collaboration.
Joint team documentation to make knowledge transparent and usable.
Regular and meaningful reviews with suppliers and also within the team
Change of mindset towards the fact that the customer is the center of the company.
Recognize potential in the company through regular retrospectives
Strengthening roles such as Scrum Master in the teams as a first step to break down the hierarchy that is too strong
Sensible linking of the software tools so that they can be used across the board and do not form silo solutions
Level 3: Cross-departmental work
The change is seen as an opportunity in the company. First improvements have been established at team level and there is a bang in the cooperation between the departments, which are still silos and are led by "powerful" department heads. At the team level, it is oriented towards the needs of the customer, but not between the departments. Methods such as Scrum and Kanban are also already established, but only in teams. Work planning and communication are supported by digital tools. However, it differs between departments.
The challenges
The company has a wealth of specialist and industry knowledge. But the departments do not share this with each other.
Agile mindset and methods have arrived in teams but are blocked between the departments.
As soon as the work takes place between departments, everyone falls back into old behavior.
Work planning and communication are supported by digital tools. However, it differs between departments.
The decision to change has been made, but it is difficult for everyone to formulate this meaningfully and most employees do not know what the actual strategy is.
The goals
Formulate overarching processes together and coordinate them with the department heads.
Scale agile methods and software tools so that departments work together in one tool. Create a common tool landscape and align agile approaches to one another.
Share a knowledge base with the other department
Clarify clear roles that are also accepted in other departments and promote projects that span several departments. Clearly define what each department contributes to the project.
Prepare ways of communication directly and create the basis for a flat hierarchy by permanently strengthening the new roles in the company.
Conduct retrospectives together and look at processes together from beginning to end.
Level 4: Agile organization
Now you want to climb to the highest level and become an agile organization. The organization works well together across the departments and an agile organization should now be created holistically up to the board. Open and direct communication is just as much a part of the culture as transparency and flexible working models. The goal is interdisciplinary teams and self-organization.
The challenges
They can hardly fall back on experience. Concepts around the agile organization are often abstract. You have to adapt this to your organization.
Concepts need to be validated and explained to employees.
The organization can only work together with managers and employees. The complexity of the change is very high.
There are fewer processes to define. It's about a barely tangible mindset with values and principles.
The goals
High employee loyalty and self-organization.
Implementation of modern methods of organizational development
Distribution of responsibilities and tasks on the basis of roles and a few good managers with personnel responsibility
The organization is a network of employees and distributed teams
The cooperation with partners and suppliers is based on trust and few contracts
Customers and employees work together on innovations
The workplace is so well equipped that teams can work together virtually
In coordination with management, employees actively shape organization and service according to regulations is a foreign concept
Conclusion
You notice that it makes sense to know your own degree of maturity and to determine the right milestones. It is always important to put one foot in front of the other and slowly improve. In this way, you will quickly notice progress and can sell the change to employees in a practical manner. It is important that you do not always have to be at the same level of maturity for every focus (employees, suppliers, …). This can vary greatly and it may not always make sense to have the highest level of maturity everywhere. Now all that remains is to define a strategy. For this I recommend another article:
Tip: Download the template here!
Further reading tips on change management articles are available here:
I offer guest articles and influencer marketing!
You have your own, interesting thoughts around the theme world of the blog and would like to share them in a
guest article
on my blog? - But gladly! You can thereby address customers and professionals. I also offer
Influencer Marketing
to support your brand!
Gendernote:
I have used the masculine form for ease of reading. Therefore, unless an explicit distinction is made, it always refers to women, diverse as well as men, and people of all origins and nations.
Read more
Spelling: I translated my German Blog to English - so you can also read my Recommendations. Please be sorry if this English is not so good.

Image-Source Titlepicture: Fotolia.de 2016 –
buyed License