"The only constant in the universe is this change . "( Heraclitus of Ephesus). Team and department structures change regularly, especially in companies. Be it in agile Scrum organizations or Spotify models (Squads). But how can such changes be simplified in such a way that the organization can almost always renew and change itself?
The problem is that, especially in agile organizations, changes represent chaos for management and the HR department (self-organization -> HR department loses track of things) and are often almost impossible in classic organizations due to the sheer number of regulations. So how can an organization change itself in a self-learning manner and this in coordination with management and HR?
In this article I will only devote myself to the organizational structure. Of course, you still have to anchor processes and culture in a meaningful way. I have the following reading tips for this:
Step 1: write standard procedures
In the first step, you should do a precise process analysis and see which standard procedures there are, i.e. types of change. In my opinion they are:
Form a team / squad
Disband team / squad
Transfer team to department / tribe
Dissolve team in department / tribe
Relocate employees
Rename team / squad
Rename department / tribe
Define the necessary steps incl. Contact person for change types in the organization and publish this list in updatable lists (Wiki, Confluence, Sharepoint, …).
Step 2: apply this to the organization
With the help of this list you as a manager can define the project: organizational change and with the help of the lists every squadlead, project leader, team leader etc. can carry out a change in the organization himself and always knows what needs to be done. I would like to show you the great advantage using an example.
Example of implementation
In the following I would like to use a practical example to show how one can change the structure of an organization using standard procedures. In the example we have an IT service provider with a requirements analysis department and a software development department divided into frontend, backend and operating. We want to split some teams due to their size and set up a new department for operating.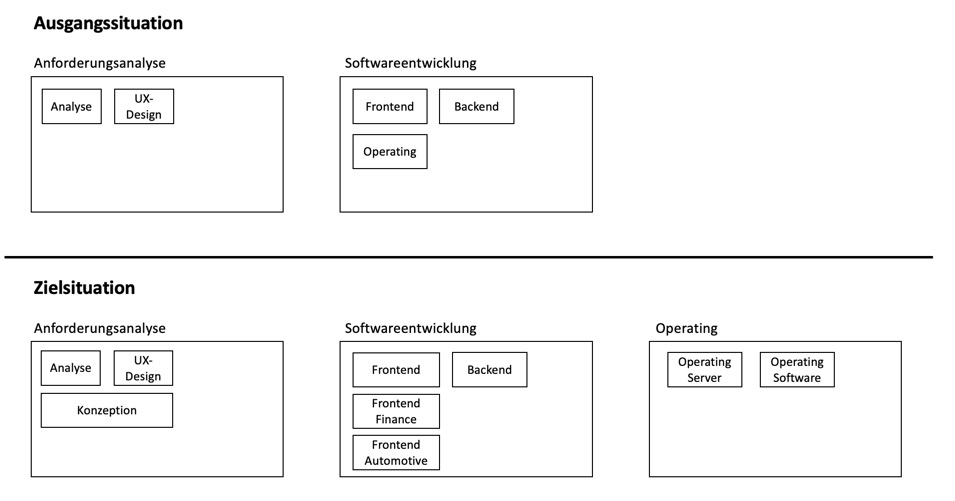 As a manager, you have now defined this target image. Now look at how by applying the standard procedures you get the target image. In the example it would be as follows:
Set up a team conception (set up a team)
Transfer employees from UX design and analysis to conception (transfer employees)
Establish the Frontend Finance and Automotive teams (2x create a team)
Relocate employees from Team Frontend to Team Frontend Finance and Team Automotive (relocate employees)
Establish a new operating department (establish department)
Establish teams of operating server and operating software (2x create team)
Transfer employees from Operating to Operating Server and Operating Software (transfer employee)
Dissolve Team Operating (Dissolve Team)
You notice that as a manager you can easily assign the standard procedures to the change in the organization. Now you can simply send a project manager the plan incl. of the standard procedures and he can make the change. Alternatively, you can transfer the change project to the various department heads, as everyone knows what to do based on the standard procedures. The only thing that matters is the sequence.
Conclusion
Changes are important and these must also be coordinated with management and human resources in constantly changing organizations. This should also be possible for all departments and teams without any problems. The recommendation is to design standard procedures and apply them to the organization over and over again, as in object-oriented programming. In this way, you can let the organization change itself again and again in coordination with management and human resources.
I offer guest articles and influencer marketing!
You have your own, interesting thoughts around the theme world of the blog and would like to share them in a
guest article
on my blog? - But gladly! You can thereby address customers and professionals. I also offer
Influencer Marketing
to support your brand!
Gendernote:
I have used the masculine form for ease of reading. Therefore, unless an explicit distinction is made, it always refers to women, diverse as well as men, and people of all origins and nations.
Read more
Spelling: I translated my German Blog to English - so you can also read my Recommendations. Please be sorry if this English is not so good.

Image-Source Titlepicture: Fotolia.de 2016 –
buyed License