The establishment of a sensible IT infrastructure for virtual collaboration is particularly important in times of COVID-19. But this is not easy in practice: old IT infrastructure has to be replaced and replaced by a new one, and processes have to be efficiently digitally mapped. In this article I would like to show how I built an IT infrastructure in 4 phases.
One more limitation in advance: In this article I will not go into the change process of employees. Especially with IT, it is important to pick up people and create acceptance for IT. In this article, however, I would like to concentrate on the pure structure of IT. There are two articles on the subject of people and change management:
New Work Nucleus
For a better overview, take the Gartner Digital Workplace Nucleus as a basis. Gartner says that the following components are fundamentally important for a digital workplace:
Task management : Everything here revolves around planning and managing tasks. It is roughly a project management function that can be interwoven with communication channels.
Content collaboration : Employees often need to be able to access and share documents immediately. Today's best tools allow integration with file and document management tools. This allows you to embed these materials directly in discussions and save them in a central location for easy reference.
Meeting Solutions : Gone are the days when long face-to-face meetings were planned. Meetings and briefings take place via voice, video and screen sharing. These meetings can be tied to specific task-based channels.
Email, chat and calendar r: I don't think much needs to be said about that. Communication and scheduling are and will remain the be-all and end-all before and after COVID-19.
Phase 1: Select software
The first thing to do is to select sensible software. For this purpose, I selected three tools for each category and tested them as free test versions with the employees. It was important to me: which tool can we use best and fastest. For this purpose, it is necessary to test it sensibly for 2-3 months and also to see which tool the employees accept the fastest and the tool roughly corresponds to the processes of the company. After 2-3 months, reduce the number to 1 tools per category.
Phase 2: software finetuning
You have now decided on 1 tool at a time. For example, I have Zoom for video conferencing, ownCloud for content, Jira for task management and OX with Rocketchat for mail and chat. Now it is time to configure the tools properly. In concrete terms, this means setting the right settings in the respective options and installing the systems in a stable manner, setting up access and setting up the respective workflows in the tools. New software is often not nice and only really efficient and fun for employees after it has been set up for a while. This took another 3 months.
Phase 3: Linking the software
Now it is important to get a link beyond the tools in order to increase the efficiency of the employees. For this purpose, custom interfaces are usually programmed or plugins are installed. For example, Rocketchat can be integrated into Jira. For example, a message is written directly into the chat for a new task or how about: You make an appointment in the calendar with OX and a zoom link is inserted directly into it. Such links are what make the real efficiency. This often takes another 6 months and requires internal resources or external service providers.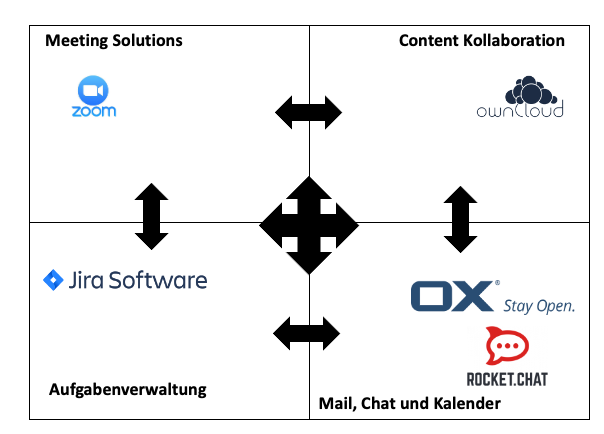 Phase 4: retrospectives and tuning
Now the digital workplace is not ready and the tools and interfaces must now be evaluated regularly with the employees. You are now working on the new infrastructure step by step every month and making it better day by day. Ask your employees about this and listen actively! This is a managerial role.
Reading tip: Why executives become admins
Conclusion
Building a clean infrastructure takes time and involves a lot of trial and error. With this structured process, a meaningful IT infrastructure for the digital workplace can be built up over months in times of COVID-19. It starts with trying out many tools, setting up the individual tools for themselves with the subsequent linking to permanent improvement. Try it!
I offer guest articles and influencer marketing!
You have your own, interesting thoughts around the theme world of the blog and would like to share them in a
guest article
on my blog? - But gladly! You can thereby address customers and professionals. I also offer
Influencer Marketing
to support your brand!
Gendernote:
I have used the masculine form for ease of reading. Therefore, unless an explicit distinction is made, it always refers to women, diverse as well as men, and people of all origins and nations.
Read more
Spelling: I translated my German Blog to English - so you can also read my Recommendations. Please be sorry if this English is not so good.

Image-Source Titlepicture: Fotolia.de 2016 –
buyed License