Digital communication and collaboration via software is essential for successful virtual work. It is therefore essential that the appropriate commercial and technological equipment is provided for virtual teams.
In this article, I would like to explain in more detail what is important here and which factors play an essential role. All information reflects a Summary out Chapters 3.1 and 3.2 of my book Virtual teams and home office from Springer Verlag contrary.
In addition, there is of course also commercial and open source equipment for virtual teams. But I would like to go into this in more detail in another article.
Technological equipment for virtual teams
From my experience, selected software tools for meaningful cooperation are in particular the following:
Communication and collaboration software like

Document storage (ownCloud or OneDrive),

Software for task and process tracking (Jira or OTRS) as well as knowledge documentation (Confluence or Media Wiki)
Virtual meeting options (Zoom or Jitsi)
However, this list is only a kind of basic framework that can be expanded individually, for example using software for time recording, invoicing, etc.
In order to be able to use the efficiency of the above tools even more, I recommend setting up interfaces, for example in the form of file sharing solutions or automated calendar entries for appointments. Even if these may initially be complex requirements in everyday work, this increases work efficiency enormously in the long term.
It is also important that you make your employees sufficiently familiar with the software tools and ensure that they can be used smoothly. Otherwise there is a risk of frustration and rejection on the part of your team.
And another tip: Regardless of whether you use commercial or free open source software. They have to be operated by suitable IT staff, which incurs additional costs. Alternatively, you can have the operation carried out by an IT provider. It is important that you plan this in addition to the acquisition costs in the budget.
Commercial software
You have probably already encountered commercial software in your everyday work in the form of Microsoft 365 or Teams, as well as atlass Jira or other various ticket systems.
I would therefore like to focus more on those in the next section.
Communication and collaboration software
Microsoft 365 and Teams combine various online services with classic desktop office software. Office 365 essentially includes tasks like these:
Writing program (Word),
Tables (Excel),
Presentations (PowerPoint),
Notes (OneNote),
Video conference and chat system (Skype),
Email (Outlook) and
File sharing (OneDrive).
These can in turn be supplemented by extensions such as SharePoint or other components. Teams, on the other hand, is still relatively new (2017) and, in contrast, also contains functions for meeting, message and task management.
In addition to this type of software, software is also required for perfect communication in the form of e-mail and chat. Microsoft has usually already integrated these into the service package.
Chat functions make sense especially internally when it comes to smaller communication formats, while e-mail traffic represents the area for official exchange.
Process and task management software
In addition to communication and cooperation, the completion of tasks must also be monitored and ensured. In virtual teams, a distinction is usually made between two types: the process-based (e.g. in customer support) and the more creative (e.g. in projects) task execution.
Team-based task management: boards and knowledge documentation
For process and task tracking, the Jira (atlases) tool is particularly well represented in the IT area. In conjunction with Confluence, it is often used for knowledge documentation. Especially in the area of virtual teams, the visualization and distribution of tasks are essential, which is why the representation of those as shown in Fig. 1 recommends.
text
Even if it is basically irrelevant whether you present tasks visually through such a board or simply as a to-do list, it is important for a functioning collaboration within virtual teams that every employee always knows which colleagues are in which area of responsibility and how they are the current processing status is defined. Such tools are especially helpful for the prioritization of individual tasks so that they can be processed uniformly first.
But the documentation of knowledge also plays an essential role. Suitable software tools bring the advantages of transparency, up-to-dateness, findability, search functions and integration with other software with them. The Confluence program can be cited as an example of such software.
Process-based task management: ticket systems
Process-based tasks can also be managed via ticket systems (see Fig. 3). A ticket system is a tool for receiving, classifying, distributing and processing inquiries. The team can respond specifically to specific inquiries. In addition, it can be ensured that customer messages are not lost. Another advantage is that the general and current status of a ticket processing can be viewed and traced at any time. This makes working with ticket systems extremely transparent and structured.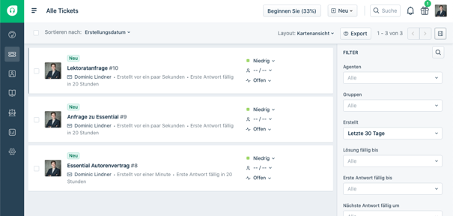 Conclusion
The advantages of commercial software are often the ease of use as well as the design. Disadvantages can be found when it comes to data protection and the high level of dependency on one provider (vendor lock-in).
Especially in this area, I see open source as much in terms of functionality as commercial solutions and would prefer these due to the sovereignty of the data. In the area of team-based task management, I see commercial software tools currently being developed a little further, and in the area of process-controlled task management, I even see free open source solutions as having an advantage.
Image source: https://pixabay.com/de/photos/zeiterfassung-zeitumstellung-5049297/
Tip: Read my new book: Virtual Teams & Home Office at Springer Gabler or book me for a talk.
Lindner, D. (2020) – Virtual Teams and Home Office – Guide to Technology, Working Methods and Leadership. Springer Verlag
Image-Source Titlepicture: Fotolia.de 2016 –
buyed License