Home office and distributed teams are on everyone's lips and for many it is a dream to be able to work from anywhere and at any time. What sounds like a dream for employees is pure horror for many executives, because the question arises: Will someone still work what?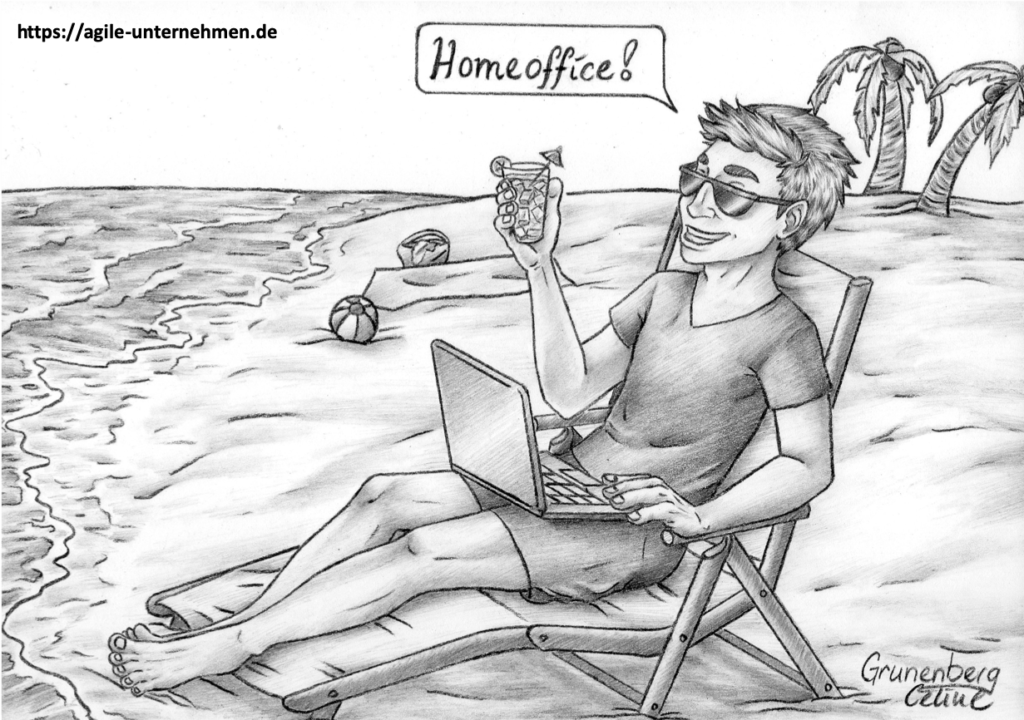 Basically, my experience is that employees who hardly work in the office do hardly anything at home. In contrast, hard-working employees are just as hard-working at home. A current study, which examines almost 30,000 employees has shown that employees in the home office work an average of 4 hours more overtime per week than employees in the office. So the fear that employees will do nothing only seems to exist in the heads of managers?
Control task completion in the home office
Even with great self-organization and trust, there should be a possibility of control. To do this, you first need to neatly break the existing work down into small tasks. You have to prepare the existing work in such a way that it can be processed using methods such as Scrum and Kanban.
Think of it like eating a cake at a party. Nobody will want to bite straight into the cake because the pieces are too big. So you have to cut it into small pieces. Afterwards, guests can take small pieces and eat. As soon as they are hungry again, they eat the next piece. At some point the cake is gone. You then actively distribute the last pieces that nobody wants at the party.
In business this means that you divide ideas into projects that consist of different tasks. These are clearly described and can be processed by the employees. You can now visualize this with methods such as Scrum and Kanban. As a manager, you will always see on one board:
What tasks are left to be done?
What do my employees do?
Where are we blocked?
What's done
You can see an example above. You can see on the board that three tasks are currently free and that your 4 employees are currently actively working on tasks 4-7. As a manager, you could take care of the acceptance of tasks 10-12 or blockers 8-9. As you can see, work is going on and nobody is resting. You should discuss the board with the team using a short daily conference call.
Conclusion
You notice that remote work is not difficult and that the completion of tasks can still be controlled. I have been working as a manager for a virtual team for more than 2 years and have excellent experience with these methods. I am always ready to say what my employees are doing and the transparency is even significantly higher than in on-site teams. The basic requirement is the division and documentation of the work as well as the visualization by a virtual board.
Tip: Read my book: SMEs in digital change at Springer Gabler or book me for a talk .
I offer guest articles and influencer marketing!
You have your own, interesting thoughts around the theme world of the blog and would like to share them in a
guest article
on my blog? - But gladly! You can thereby address customers and professionals. I also offer
Influencer Marketing
to support your brand!
Gendernote:
I have used the masculine form for ease of reading. Therefore, unless an explicit distinction is made, it always refers to women, diverse as well as men, and people of all origins and nations.
Read more
Spelling: I translated my German Blog to English - so you can also read my Recommendations. Please be sorry if this English is not so good.

Image-Source Titlepicture: Fotolia.de 2016 –
buyed License