The acceleration of the markets and the increasing complexity of possibilities and requirements demand managers in a previously unknown form: In order to keep pace with the new developments, the management culture has to change Innovation Evangelists . It is, among other things, the task of executives to exemplify, promote and convey values. According to the Innovation Evangelist, they must also promote four criteria in order to be attractive to young professionals: good teamwork, (perceived) meaningfulness of work, compatibility of work and family and personal development. The following article is intended to shed light on how executives could manage such a balancing act.
Employee autonomy while maintaining controllability and control
A special component that is required of executives should be trust. That's right, because permanent control is demotivating. Nevertheless, a manager must also maintain constructive control so that activities take place in accordance with the company's goals. This balancing act is one of the most difficult. Köffer and Urbach (2016) have already examined this in detail in the context of IT and say about maintaining control:
In particular, IT compliance studies emphasize the need for companies to have and maintain control over the use of technology in the workplace. Such a control is indispensable anyway for security-critical industries. Anyone who threatens formal sanctions for IT compliance violations must be able to discover them and sanction them accordingly. Employees who realize that a policy violation has no negative consequences are more likely to maintain their behavior.
On the other hand, however, they criticize too large a set of rules and find that they are no longer optimal in the context of digital change.
"One-size does not fit all". This phrase turns up in the literature related to it Research fields of the digital knowledge workplace. He illustrates that approaches that treat all knowledge workers equally are increasing are insufficient. Instead, many studies call for an individual design of digital knowledge jobs.
Guildelines for Leadership 4.0
So how does leadership manage such a balancing act? I have included a few tips in various articles and also included a few things in my roundtable. In the following I show these as bullet points:
Due to the diversity of generations and globalization, a higher understanding of diversity is important, which managers need to promote
Results are what count, not the process! This rethinking is required of managers
Networking employees across departmental boundaries is becoming increasingly important for a common understanding
In a modern management culture, opportunities and leeway are created instead of specifications
Leadership has to guide you and give way to creating visions
Appreciation and meaning for the individual employee becomes important
Managers should also reflect on themselves and constantly improve
Situational leadership 4.0
A modern, digital working world (Work 4.0) is emerging, with virtual teams, new tools, digital offices and more agile working methods. This demands more personal responsibility and greater media skills from employees. Managers have to create an appropriate working environment and select the right models – as a key requirement for the long-term success of their company, according to Innovation Evangelists .

One approach for Leadership 4.0 could be situational leadership. The aim of situational leadership is to recognize and exploit the potential of each individual employee. Based on the respective maturity level of the employee, a certain leadership style should be practiced Portal anleiten.de If you want to know more about it, read mine Article on situational leadership . In total, however, there are three steps to choosing the right leadership method:
Identify the level of maturity of the employee
Select guidance method
Test and improve leadership method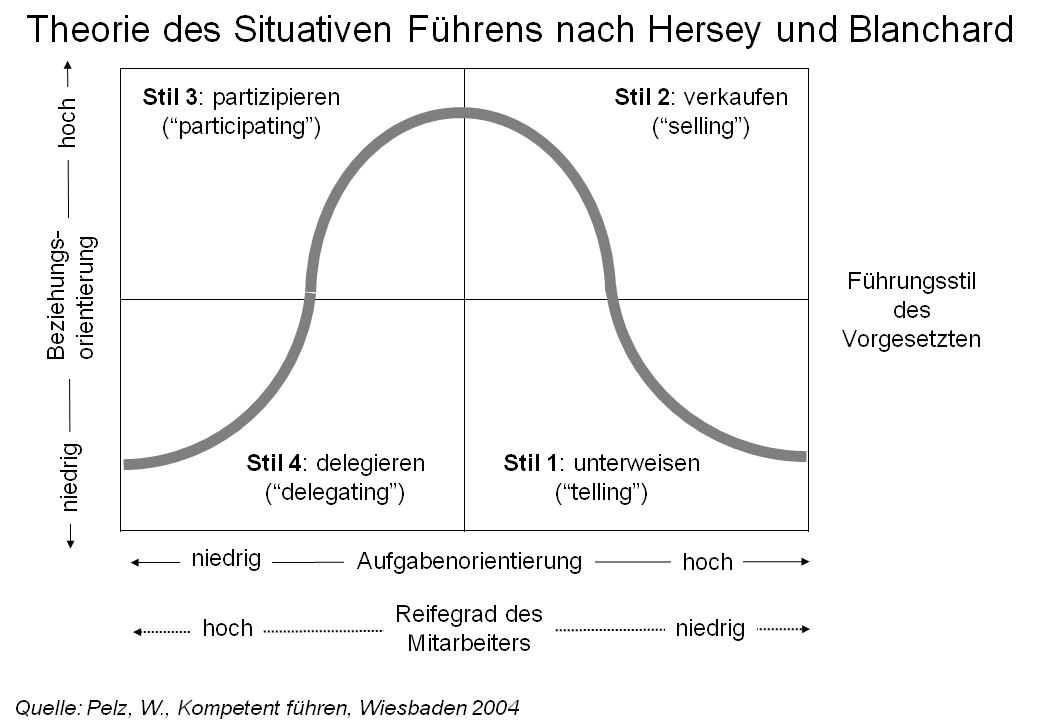 Five types of leaders
In addition to this situational guidance, according to the study, the Innovation Evangelists classify five types of managers. I have quoted the following paragraphs from the PDF in the link.
1. "Traditionally protective care" The traditional management culture gives its employees security and is aimed at the long-term stabilization of the company and jobs. Expertise and natural authority are the hallmarks of a traditional leader. Through her role model function, she wins the loyalty of her employees.
2. "Tax by numbers" The aim of this management culture is to maximize profit and return. Here the managers should succeed in organizing the employees in such a way that the company generates the highest possible profits. By means of a sophisticated strategy, target management and number-based controlling, the company is to be brought forward in the competition for the greatest profits. The overriding goal: attractive returns for capital owners.
3. "Coaching of cooperative teamwork" The transparency of knowledge and information, the reflection on it in the team and the use of the resulting internal and cross-company synergy potentials are the result of networked and flexible structures. A high degree of diversity brings different perspectives and perspectives into the development processes – but it also requires managers to be able to moderate conflicts and create room for maneuver.
4. "Stimulation of network dynamics" Initiative and personal responsibility should be encouraged by networking among employees. Hierarchy takes a back seat as a mode of interaction between managers and employees. Instead, this leadership culture relies on cooperation, flexibility and dynamism. In this way, the complexity of the markets should also be taken into account: Here it is important to react flexibly. This can only be achieved with flexible network structures in companies and corporate management.
5. "Solidarity with Stakeholder Action" Solidarity and the balance of different interests are lived in the value-based management culture. The employees are motivated by the meaningfulness of their task, appreciation, freedom in their daily work and the opportunity to participate. The central goal of this management culture is to balance all stakeholder interests
Conclusion: Leadership 4.0
Leadership 4.0 is becoming more dynamic and complex. That's what it says Manager magazine : Depending on the team composition or the workload of an employee, it must be decided again and again which manager is responsible for selection and supervision in a specific case. The disciplinary manager or the technical superior? Just as complex: Who is allowed to give which – own or external – employees instructions regarding the place, time and content of the activity?
Also represents that Manager magazine furthermore some exciting questions: Who monitors the employee with regard to the content, quality and quantity of the work? And when a computer has put the team together: Who is responsible for selection errors, should the employee cause damage and liability? So it goes on cheerfully: employees of a transnational uniform working group could be subject to different legal systems; Differences in pay within the team raise questions. From a legal point of view, there is not always a clear answer to these seemingly banal questions alone.
Overall, it shows that we still have many unanswered questions in the area of leadership 4.0. But one thing is clear: Something will change and there are already first approaches for managers. It is currently important to simply try out these approaches and to interpret them in small steps and to implement those that work.

I offer guest articles and influencer marketing!
You have your own, interesting thoughts around the theme world of the blog and would like to share them in a
guest article
on my blog? - But gladly! You can thereby address customers and professionals. I also offer
Influencer Marketing
to support your brand!
Gendernote:
I have used the masculine form for ease of reading. Therefore, unless an explicit distinction is made, it always refers to women, diverse as well as men, and people of all origins and nations.
Read more
Spelling: I translated my German Blog to English - so you can also read my Recommendations. Please be sorry if this English is not so good.

Verwendete Quellen anzeigen
Köffer, S., & Urbach, N. (2016). The digitization of knowledge work – recommendations for action from business informatics research. HMD Praxis der Wirtschaftsinformatik , 53 (1), 5-15.
Image-Source Titlepicture: Fotolia.de 2016 –
buyed License