Really good leadership has always been a challenge. That was the case even before the digital transformation. Digitization adds new requirements: unconditional openness, maximum mobility, meaningful networking and high participation. This is leadership in the digital age: high dynamics and complexity. Under the hashtag Leadership 4.0, there are concepts related to the digital leader. But what is behind it and what does leadership mean in the digital age?
Leadership 4.0
How digital is leadership? Leadership 4.0 examines this new behavior of managers. There are currently numerous tips for leadership in digital change. For example, shows Heap a model for a digital manager:
Openness and trust – I trust my employees and I am open. Openness refers to the open handling of information as well as openness to new things and the joy of experimenting.
Speed through digital networking – I use and demand digital media to enable speed, agility and flexibility in my organization. This includes the networking of people with people (social networks), people with information (wikis, blogs) and information with information (links, tags).
Use the best of knowledge – I make sure that the best possible level of knowledge worldwide is used in all activities. This can be done, for example, through flexible documentation of processes and tasks in wikis, the application of the "Working Out Loud" method or through the application of the Plan-Do-Check-Act approach.
Develop employees – I accompany my employees in their self-directed, lifelong learning. This can be done by being sent to training courses and learning events (formal learning), but also through informal learning opportunities such as communities of practice, Moocs, barcamps, online videos, etc. Of course, I also practice lifelong learning myself.
Organization as a community – I meet all employees – offline and online – at eye level and never from above. Visions and goals are developed jointly and in a participatory manner. In this community, the best arguments and ideas count, not other factors such as age, gender, origin or position. Social networks help us to strengthen cohesion and a sense of community.
Transparency in responsibilities and tasks – I make sure that the responsibilities and tasks of everyone involved are transparent. This can be done, for example, by mapping RACI matrices (Responsible, Accountable, Consulted, Informed) in wikis with decentralized maintenance. Instead of micromanagement, I rely on the autonomy of knowledge workers.
Leading Out Loud – I make my own work visible and tell continuously – offline and online – about my leadership and learning process. In this way I communicate information broadly (from the principle "need to know" to "open by default"), receive valuable feedback and at the same time am a role model for the "working out loud" of all employees.
High tech and high touch – I do not control the individual person, but take care of the design of the overall system. This includes both the physical infrastructure (offices, workplace of the future, coworking space, innovation lab, barcamps) and the digital infrastructure (social intranets, social networks, Enterprise 2.0, wikis, blogs, podcasts, video portals).
Leadership in the digital age
Capgemini shows some competencies for a digital leader. New skills are added to the classic leadership skills (leadership behavior): on the one hand, digital skills, including handling digital tools for decision-making. On the other hand, there is digital behavior, such as professional presence on digital platforms. As explained above, the personality and thus the attitude of a manager play an immensely important role in the digital age. If the attitude of a manager is not right, it will not be successful in the long run. She will not take on a role model (or a negative one) and will not be able to motivate employees for change.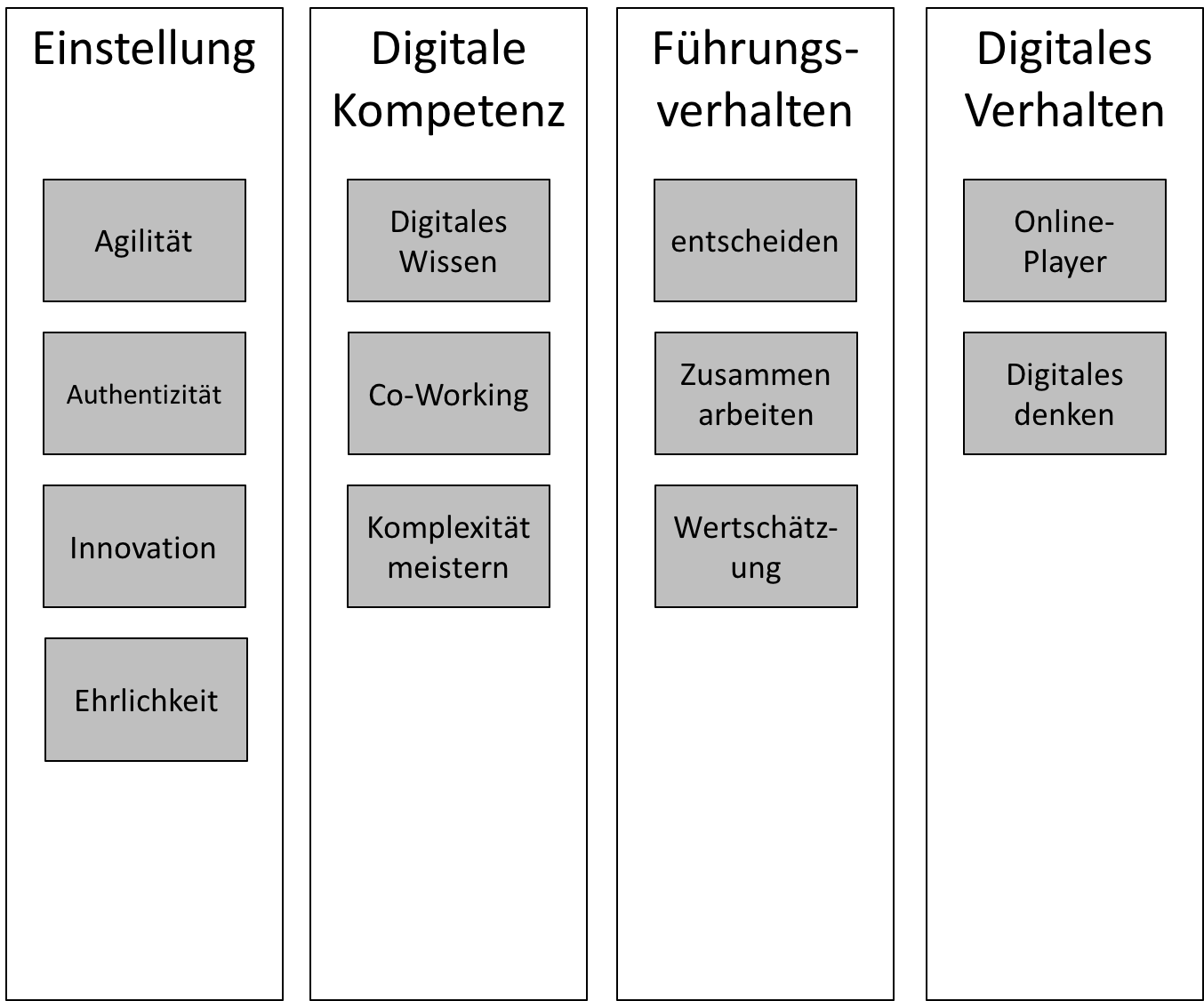 Conclusion
This shows that there is more to Leadership 4.0 than just a minor adaptation of leadership. This article only touched on some of what I found on Google. Especially in my article on Leadership in technological change it goes much deeper into what technology really makes of executives. If you look at the study by Capgemini, at first glance it is a pinch of agility with digital competence. What I miss are points such as the conflict of generations, leadership at a distance, situational leadership and the role of the use of technology in leadership. Therefore read mine too Article on situational leadership .

I offer guest articles and influencer marketing!
You have your own, interesting thoughts around the theme world of the blog and would like to share them in a
guest article
on my blog? - But gladly! You can thereby address customers and professionals. I also offer
Influencer Marketing
to support your brand!
Gendernote:
I have used the masculine form for ease of reading. Therefore, unless an explicit distinction is made, it always refers to women, diverse as well as men, and people of all origins and nations.
Read more
Spelling: I translated my German Blog to English - so you can also read my Recommendations. Please be sorry if this English is not so good.

Image-Source Titlepicture: Fotolia.de 2016 –
buyed License