The streaming service Spotify was founded in 2006, today has sales of over 4 billion euros and has 3,000 employees. This success story can be traced back to a wide variety of factors. One of them is the agile organizational form of Spotify, which is now taken as a model by numerous companies.
Reading tip: Spotify model in traditional companies
Spotify model – how does it look in practice?
If you open current magazines, you will find the following headline: " ING – a bank on speed ". ING DIBA is aiming for an agile change based on the Spotify model with the help of a major restructuring.
Furthermore, squads, tribes and chapters from the Spotify model can also be found in the IT of Deutsche Telekom. Telekom currently has around 15 squads, which are distributed over four tribes. Quote from an agile coach at Telekom is to: "We have adapted the Spotify model for ourselves. The challenge here is that the structure has not grown organically, as with Spotify. Rather, it was set up and we, as agile coaches, have to make sure that it works. "
A final example is the company Rewe, which with the Spin-off Rewe Digital (e.g. Rewe delivery service) meanwhile also looking for chapters, tribes and squadleads. The 150 employees are divided into squads and tribes, which work according to the Scrum method.
Spotify model – how does it work?
But how does this model work, which large corporations use as a role model? I would like to explain the basic building blocks for this. The model is divided into squads. These are loose groups that have a specific purpose and work in an agile manner. Each squad has an elected squad leader who represents the interests of the team.
Different squads are combined into a tribe, which has a tribelead. Chapters are planned to enable a professional exchange. A chapter can be seen like a user group. This deals with a specific topic, e.g. databases, and defines standards and technologies in the company. There are also guilds for certain special cases.
On the website of the Spotify model there are of course numerous other principles and best practices. However, this first explanation is enough for my assessment to say something about the agility of the model. I would only like to mention the guilds, which are something like user groups for the exchange of knowledge.
Spotify model – what are the advantages?
The big advantage of this model is the scaling. The fact that you create autonomous squads means that you can easily scale various topics. Examples are:
Rewards can be allocated to the squads and they divide it up
A salary budget can be allocated to the squad, which the squad can distribute itself
The squad can determine the squad lead itself
Each squad can have a different working method (classic, Scrum, Kanban)
Squads can use Goals or OKRS to be controlled
You notice that the squads can be controlled in a very agile way and that you can save a lot of management effort. I can imagine that a company with 100 employees could consist of 2-3 board members and 10-12 squads. This extremely flat hierarchy promises efficiency and speed.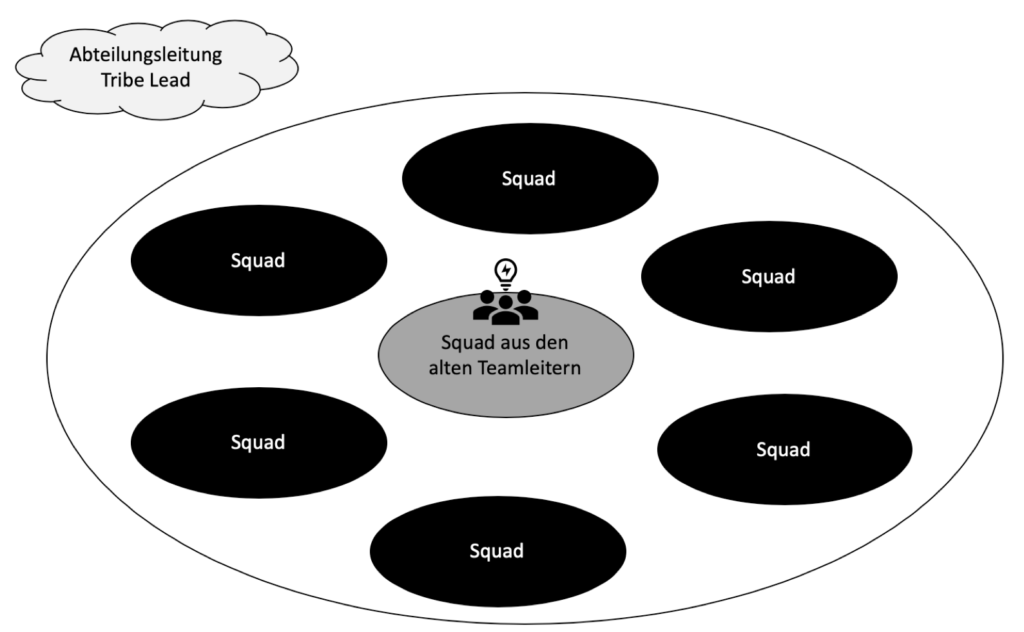 Spotify model – how do I cut my squads?
The important thing is that you can cut your squads quickly and well. Many companies are obviously having a hard time doing this. Spotify itself has made the division according to functions on the website. Further possibilities would be divisions according to:
Industries (service providers)
Customers (e.g. IT service providers)
Products (product house)
Functions (IT house)
Divisions (e.g. group)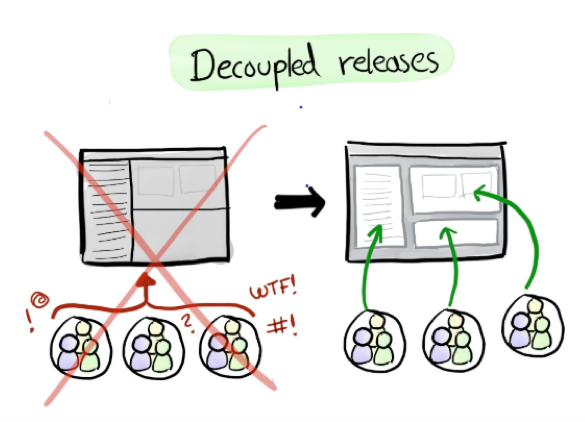 Spotify model – what's my experience?
I'm lucky that my company is currently implementing this model in a department and that I was significantly involved in the change. I would therefore like to tell from my first experiences how agile this model is in my opinion. The department has 28 employees.
First of all, I have to say that we have aligned our squads according to customers and not products or functions, and that each squad deals with 1-3 customers in a targeted manner. We have 5 squads and 3 chapters across the board, which exchange ideas about technologies. Due to the small size, we only have one tribe and no guilds. We also try to implement the values of Scrum.
Focus: Every squad has a customer
Openness: Every squad is open to its customers
Courage: every squad has direct contact with the customer and has the courage to stand up for their ideas
Respect: We respect our customers and the customer's success
Commitment: Our customer is the focus
By the way, you can read a very extensive example of how I implemented a Spotify model.
Reading tip: Spotify model in traditional companies
Spotify model – how agile is it?
I have to say that this model is very suitable for us and that we have achieved an improvement in customer satisfaction, especially in the DevOps and Scrum way of working. The employees also rave about the numerous possibilities offered by the self-organization of the squads. That's why I think this model is a really good alternative and I believe that companies should definitely take an example from it. We have had consistently good experiences and the model is easy to understand. Spotify's best practices also give great advice and it's not a commercial framework.
Reading tip: Agility in service companies
Spotify model – what criticism is there?
The first criticism is that the model is a bit older and the world has changed in the meantime. Furthermore, experts believe that the Spotify model only solves the problems of Spotify and therefore cannot be transferred, and thirdly, the Spotify model has even been changed in the meantime. Of course you will never be able to simply copy a model, but certain impulses or ideas can be taken from the model and implemented in your own organization.
Spotify model – how can I measure culture?
I can also give you the tip that you as a manager must above all pay attention to compliance with the squad spirit and the values, since motivation and solidarity in the squad are absolutely crucial for performance. There is also the Spotify Squad Healthcheck . You check the satisfaction of the individual squads on the basis of various criteria.
Tip: Download the template like here and adjust them!
What is the advantage of this model? You can check the culture of your department very quickly. I would like to give an example of this. To do this, you ask your team about various criteria.
In the columns you can see the main differences between the different squads. Squad 2 is happy with pretty much everything. Squad 3 has many problems, but there is a positive trend on almost all points.
In the Rows we can recognize systemic patterns. Every squad has fun at work (and the trend is even higher!). Motivation doesn't seem to be a problem. However, the processes cause problems. Over time, this will certainly reduce the fun factor at work.
in the Overall picture you can see that many arrows are pointing up. This means that the improvement process (the most important process of all) is working.
Conclusion
I think that the idea of the Spotify model is a basis for bringing agility into a classic organization. Now that you've established the squads, you can implement the majority of agile best practices across the organization. So I see the idea of the model as a basis for scaling agility.
Image source cover image: Designed by Rawpixel.com
I offer guest articles and influencer marketing!
You have your own, interesting thoughts around the theme world of the blog and would like to share them in a
guest article
on my blog? - But gladly! You can thereby address customers and professionals. I also offer
Influencer Marketing
to support your brand!
Gendernote:
I have used the masculine form for ease of reading. Therefore, unless an explicit distinction is made, it always refers to women, diverse as well as men, and people of all origins and nations.
Read more
Spelling: I translated my German Blog to English - so you can also read my Recommendations. Please be sorry if this English is not so good.

Image-Source Titlepicture: Fotolia.de 2016 –
buyed License