Service companies such as IT consulting, insurance agencies, tax advice and much more often consider how agility can take place in harmony with the customer. The aim is a high degree of flexibility with regard to customer requirements and Scrum is often not a direct solution due to the long sprint times in an ad hoc business. I would like to give a recommendation for action in this article.
Spotify model
The streaming service Spotify was founded in 2006, today has sales of over 4 billion euros and has 3,000 employees. This success story can be traced back to a wide variety of factors. One of them is the agile organizational form of Spotify, which is now taken as a model by numerous companies.
The Spotify model provides for so-called squads to be defined for certain areas. These are loose groups that have a specific purpose and work in an agile manner. Each squad has an elected squad leader who represents the interests of the team. I don't want to explain the entire model in this article as only the idea of the squads is relevant. You can find out more about the entire model in the following reading tip.
Reading tip: Spotify model
Imagine that one squad takes over a module or part of a website, for example, the display of the music and another the sidebar, etc. You have specialized units that work sensibly for your target group. But how can this be transferred to agility in service companies?
Recommendations for action
My recommendation is that the individual consultants should be close to the customer and be allowed to make decisions independently with the key account manager. The account manager is the advocate of the customer and the employees. He knows the customer and speaks his language, but also defends the consultants.
The internal teams such as HR, internal IT and travel management support the consultants in their work and provide great services and products such as laptops or Office 365.
The advantages of the squads are that they react individually to the customer and work in a dedicated manner. The squads speak the language of the customer and proactively think along for him. This increases the satisfaction extremely. In the long run, the squads can even take over sales, as they build a relationship with the customer. It is important for you as a manager: leave squads alone, trust and help the squads. Another advantage is that you can use it to plan sales and create forecasts.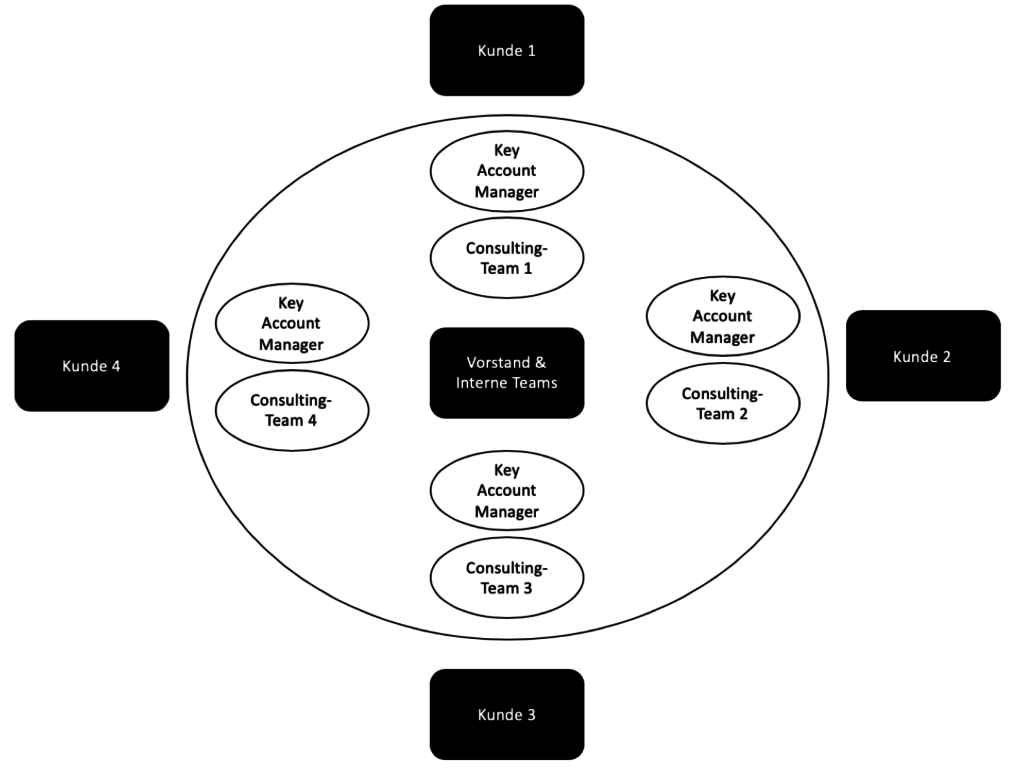 Open questions
It remains to be seen how the squads exchange knowledge with each other and whether this is even necessary, since each squad is individually tailored to the customer anyway. I also try to solve this question in my day-to-day work. Do you have any ideas? Then write to me!
Image source: Business photo created by yanalya – www.freepik.com
I offer guest articles and influencer marketing!
You have your own, interesting thoughts around the theme world of the blog and would like to share them in a
guest article
on my blog? - But gladly! You can thereby address customers and professionals. I also offer
Influencer Marketing
to support your brand!
Gendernote:
I have used the masculine form for ease of reading. Therefore, unless an explicit distinction is made, it always refers to women, diverse as well as men, and people of all origins and nations.
Read more
Spelling: I translated my German Blog to English - so you can also read my Recommendations. Please be sorry if this English is not so good.

Image-Source Titlepicture: Fotolia.de 2016 –
buyed License