Kanban is now often used in IT for agile software management. The method helps teams to communicate and manage information transparently. In addition, the associated teams are organized autonomously in their work, which means that Kanban often makes agile project management more efficient. For these reasons in particular, it has long since become a popular method in change management.
origin
However, Kanban originally comes from the automotive industry, but it can also be easily transferred to other industries. The term translates as "visual map / board" ("kan" stands for "visualize" and "ban" for map or board). It comes from the Japanese and was developed by Toyota. They recognized the power of visualizing tasks for a more effective way of working a long time ago. Maps with project steps show the need for tasks to be carried out at any time. This enables the teams themselves, but also across departments, to communicate better. For example, information can easily be exchanged with neighboring areas such as development or production.
functionality
Kanban is much more than just using cards to visualize current needs. It also enables a constant worfklow that is explicitly based on the respective needs. As a basis for cross-departmental cooperation with increased transparency and communication, as well as the planning of tasks and the optimization of processes, a project can be broken down into several modules from different tasks. This ultimately closes the loop by visualizing the tasks for all team members using a Kanban board.
Principles
In general, the flow applies to Kanban! Everything has to flow – a steady flow of work should be ensured. You can think of it like an assembly line. Bottles are filled with stickers and closed. This should be done permanently without interruption.
The flow should be ensured by reducing factors. These are: Mura (imbalance), Muri (overuse) and Muda (waste). These factors can be noticed through the visualization on a Kanboard.
Kanban board
The Kanban board serves as a collection point for all tasks, process steps and sub-elements. In simplified terms, it can be divided into the three categories "TO DO", "IN PROGRESS" and "DONE".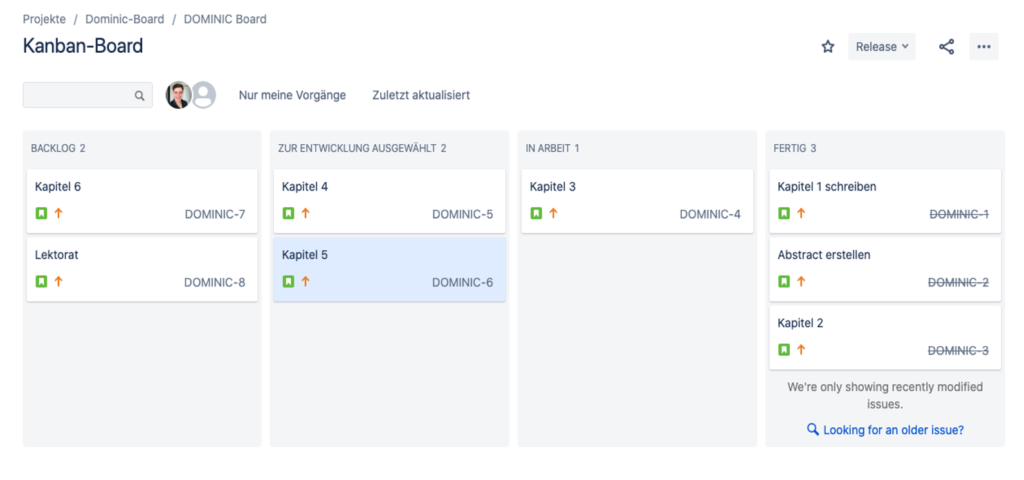 You can also make the Kanban board more complex by adding additional categories. For example, tasks can also be included, the processing time of which is uncertain. Often, however, categories such as additional, unplanned development steps or the execution of tests are also integrated.
After designing the Kanban board, the cards with the individual tasks can then be moved forward on the board depending on the processing status. The individual members of the project team are free to choose the cards they want to deal with. At the same time, however, they can also work together on processing sub-steps. Kanban therefore requires a high degree of initiative and responsibility as well as an autonomous organization in the team for a successful success.
Conclusion on Kanban
For many companies, Kanban is a good method to ensure more transparency in the way teams work and a better workflow. But the open method is not suitable for every team. Because despite its easy implementation, it can only work if there is a need for cross-departmental cooperation and the individual work steps of a project can really be broken down into subtasks. Kanban also requires good time management so that deadlines can actually be met. If this is the case, however, then Kanban can be used in many areas and situations and has great potential for improvement in agile project management.
Image source: Business photo created by freepik – www.freepik.com
I offer guest articles and influencer marketing!
You have your own, interesting thoughts around the theme world of the blog and would like to share them in a
guest article
on my blog? - But gladly! You can thereby address customers and professionals. I also offer
Influencer Marketing
to support your brand!
Gendernote:
I have used the masculine form for ease of reading. Therefore, unless an explicit distinction is made, it always refers to women, diverse as well as men, and people of all origins and nations.
Read more
Spelling: I translated my German Blog to English - so you can also read my Recommendations. Please be sorry if this English is not so good.

Image-Source Titlepicture: Fotolia.de 2016 –
buyed License