"Industry 4.0 is a marketing term that is also used in science communication and stands for a" future project "by the German Federal Government" ( Gabler Lexicon ). This so-called fourth industrial revolution does not yet seem to be comprehensively understood.
This is why German companies are currently still reluctant. That's what she says Bitkom study : "Industry 4.0 has reached the economy, but companies are still reluctant to invest in innovative digital technologies for networked production and products."
For this reason, possible advantages of Industry 4.0 are to be highlighted and argued in this article. On the basis of these, the considerations about Industry 4.0 can be further cited. Now I will show you a few selected advantages of Industry 4.0.
Reading tip: What is Industry 4.0
Transparency and communication
The various interfaces and reports as well as the real-time notifications through, among other things, RFID chips, can create greater transparency in the supply chain. This also increases communication, as reports are sent automatically and employees can permanently track production in other locations in real time.
Simplification of processes
Processes can be simplified with new software and hardware. For example, parts can be ordered more easily using an ERP tool and forecasts and reports can be accessed more easily using a document management system.
Automated processes
You know it: processes are carried out manually over and over again. This can be tiring, cause mistakes and demotivate employees. This can be circumvented by automating processes.
Good employees could also devote themselves to other tasks and improve production instead of just working in it. With the help of automatic processes, employee satisfaction and efficiency can be increased.
Forecasts and Big Data
All of these software tools produce data. Data that can be used to make forecasts and predictions. Well-founded decisions can be made on the basis of this. These can also be used to initiate processes such as ordering new goods or alerting for dispatch.
Efficiency
The efficiency gained can increase adherence to deadlines and with the help of software tools, on the one hand, more products can be produced faster and, on the other, customers can be satisfied. Remember that you could show your customers a dashboard by tracking your parts live or by conveniently ordering them via an online shop.
Business models
With the help of new possibilities, it is possible to react better to changed customer conditions. By partnering with startups and other manufacturers, new synergies and products can be created.
Other services such as a fee for a dashboard or the use of the live tracker to manufacture the parts can also be charged. You can also sell your own developments, such as production capacity control, to other companies as a consultancy or service.
A final example is the opening of a manufacturer platform. On this, production companies can jointly develop and offer services and products digitally. For the customer, everything in one place, anytime and anywhere!
New career opportunities
With the help of the new human-machine cooperation, humans can serve as supervisors and managers in production and will also be challenged. Instead of monotonous operation of machines, creativity is required and constant training is necessary.
In this way, an employee can constantly develop and help shape the IT landscape and digital processes. All of this can keep employees in the company longer and especially attract skilled workers from metropolises, especially in rural regions.
Tip: Book suggestions too Industry 4.0
Conclusion: advantages of Industry 4.0
The advantages of Industry 4.0 are obvious, but there still seems to be a high level of uncertainty and fear of high investment costs in German companies. In this text, cases were shown that Industry 4.0 can bring.
In addition to greater efficiency and big data, employees can also be more satisfied and new opportunities can be offered. Synergies between manufacturers and new business models are also conceivable.
I hope to be able to provide some food for thought with the articles and look forward to your comments. But as always, these advantages also have disadvantages, which should be considered. You should therefore also read the Disadvantages of Industry 4.0.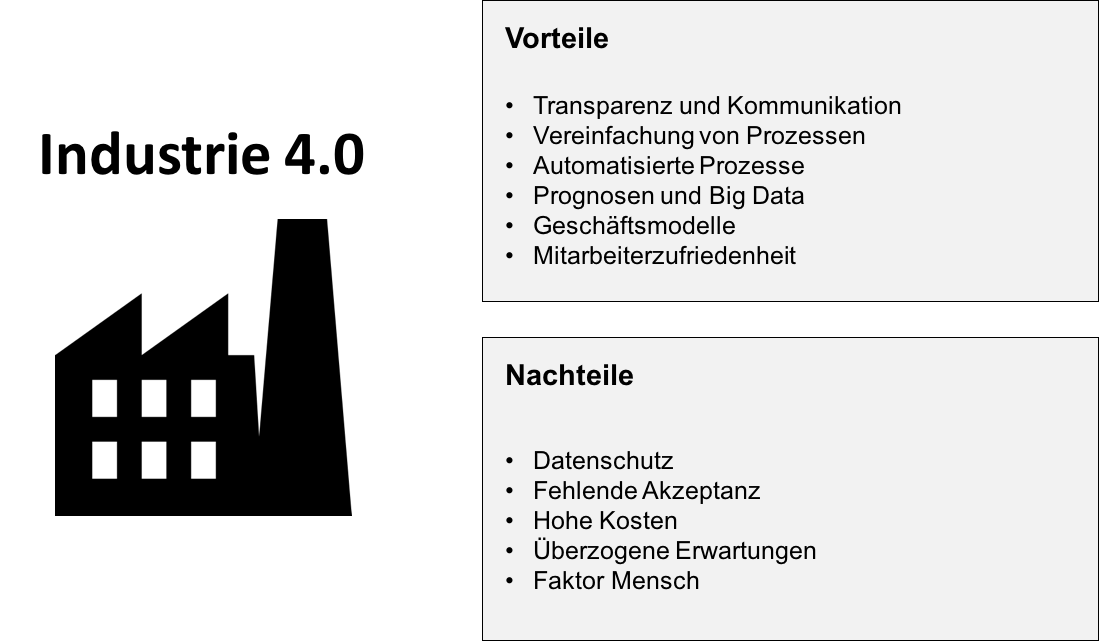 I offer guest articles and influencer marketing!
You have your own, interesting thoughts around the theme world of the blog and would like to share them in a
guest article
on my blog? - But gladly! You can thereby address customers and professionals. I also offer
Influencer Marketing
to support your brand!
Gendernote:
I have used the masculine form for ease of reading. Therefore, unless an explicit distinction is made, it always refers to women, diverse as well as men, and people of all origins and nations.
Read more
Spelling: I translated my German Blog to English - so you can also read my Recommendations. Please be sorry if this English is not so good.

Verwendete Quellen anzeigen
Image-Source Titlepicture: Fotolia.de 2016 –
buyed License