A Study by the Bertelsmann Foundation , which surveyed over 1000 executives, shows that 30% of those questioned actively doubt their role as a manager and a further 25% even perceive it as a burden. There is a worryingly high proportion of
According to the study, self-doubts in their leadership role are plagued by fewer positive effects.
But where can that come from? There are certainly numerous aspects and I have already given many tips for managers, which I list below as reading tips. In this article I would like to address the aspect of self-organization, which can lead to doubts in executives. A special sub-aspect is the feeling that you are no longer needed.
My experience with self-organization
I have been a department head since 2019 and previously had a deputy for this role for almost 2 years. During this time I packed the goals of the board of directors into various projects, which contributed to the realization of the goals.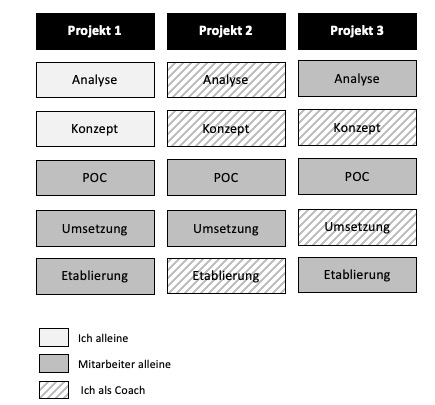 I would like to present three exemplary project models that I carried out under the aspect of self-organization at the level of a department head. The projects run through the typical waterfall process for better illustration. After analyzing the corporate goals and the conception, the project was quickly tested as a proof of concept. Then the implementation was carried out and the new result of the project, for example a new process in the department.
An important aspect is that as a department head I have to pull myself out of topics quickly, otherwise I will be fighting on too many construction sites at the same time. That's why I delegate quickly and am still available for questions and coaching. Otherwise you run the risk of being overburdened or of being a bottleneck in the operation.
In the first example, I put a corporate goal into a specific project and explained it to the employees. The employees understood this quickly and were able to implement it as a project. I was only open to questions and then withdrew from the topic.
In the second example, I started a project together with an employee as a further development measure and helped him to carry out the analysis and concept. He was quite young and the concept was complex. It did him good that I helped. Now the employee was able to implement the project on his own and I then helped establish it.
In the third example, an experienced employee approached me with a suggestion. I then helped build it up from the concept. Now the employee has started the POC and then reported to me. We then planned the implementation in the department together and he established it.
Conclusion: Success through self-organization and doubts through redundancy
Only this approach ultimately helped me to implement many projects in a meaningful way and to address numerous topics at the same time. I had to put a lot of trust in the employees, but I don't slow down operations as a bottleneck and give employees the opportunity to distinguish themselves through projects.
I believe this approach is correct and also good. I discussed it on the blog for a long time and also examined it during my research. Now I am actively doing it myself and after a while I was plagued by doubts that I was actually not doing anything right and only others would reap constant fame. I feel like a shadow between many stars completing permanent projects and rocking. In the end, these doubts spurred me on to make the department even better and to continue on this path. The end was that the board of directors praised me strongly, because in the end it is my department and even if others manage the projects, it falls back on you as a department head. It's never been that I wasn't needed. Employees kept telling me that they were glad that I was there. It was also known throughout the company that I often manage projects in the background.
Dear managers! It can feel hard that you are no longer in the spotlight and not always getting full glory quickly. Trust also requires a certain amount of overcoming and your own employees are sometimes more praised than you are. This can cause doubts even in the strongest of characters when traditionally thinking employees ask: "What are you still doing?". I believe that through self-organization the short-term fame is lost, but the medium- and long-term is all the greater. That is why I appeal to you: do not give up, encourage self-organization, discard doubts and follow the path of success!
Reading tip: Be boss boss!
I offer guest articles and influencer marketing!
You have your own, interesting thoughts around the theme world of the blog and would like to share them in a
guest article
on my blog? - But gladly! You can thereby address customers and professionals. I also offer
Influencer Marketing
to support your brand!
Gendernote:
I have used the masculine form for ease of reading. Therefore, unless an explicit distinction is made, it always refers to women, diverse as well as men, and people of all origins and nations.
Read more
Spelling: I translated my German Blog to English - so you can also read my Recommendations. Please be sorry if this English is not so good.

Image-Source Titlepicture: Fotolia.de 2016 –
buyed License