Since At the beginning of my blog I deal with the advantages and opportunities that for SMEs by introducing agility and implementing related agile methods. As part of the Blog parade from projektmagazin.de I want to be specific in this post Dealing with the opportunities available to small and medium-sized companies Companies by optimizing physical and virtual collaboration in Can open up with regard to internal project management.
In Germany the middle class is strongly represented. More than 99 percent of all companies are among the SMEs in this country and many of them can be attributed to technological Level in addition to pioneers and best practice examples. But how can it be that exactly these companies seem to be changing after all Ordinary methods, such as the introduction of holistic strategies, fail? How can it be that the role models from medium-sized businesses are still like this rigid boundaries between individual departments and areas of responsibility prevalence? Or to put it another way:
What prevents SMEs from Implementation of holistic strategies?
The answer is both, simple and terrifying at the same time: Old fashioned Silo thinking within closed project boundaries.
There is one thing very clear: Project management, in particular, will change due to maturity of digitization will increasingly change in the coming years. Even if that is not a new change, the influencing factors change significant. Because instead of the automation of electronics there is now the Informatization in the foreground. In this context, data should be used in the future after professional processing, using artificial intelligence, everywhere and are available at all times. Accordingly, not only the Conditions in project management change, but also the way how is being worked on. Project boundaries have to be broken down even more in the future because growing complexity requires increased cooperation.
Yes, though This change is clearly predictable, many SMEs still do not seem to have taken enough action. Far too often, conditions prevail as in the following figure, in the case of rigid patterns with little transparency is thought and acted. Instead of information by means of an open flow through the individual areas of responsibility within a project transfer, is shaped in closed departments independently of each other acted by silo thinking.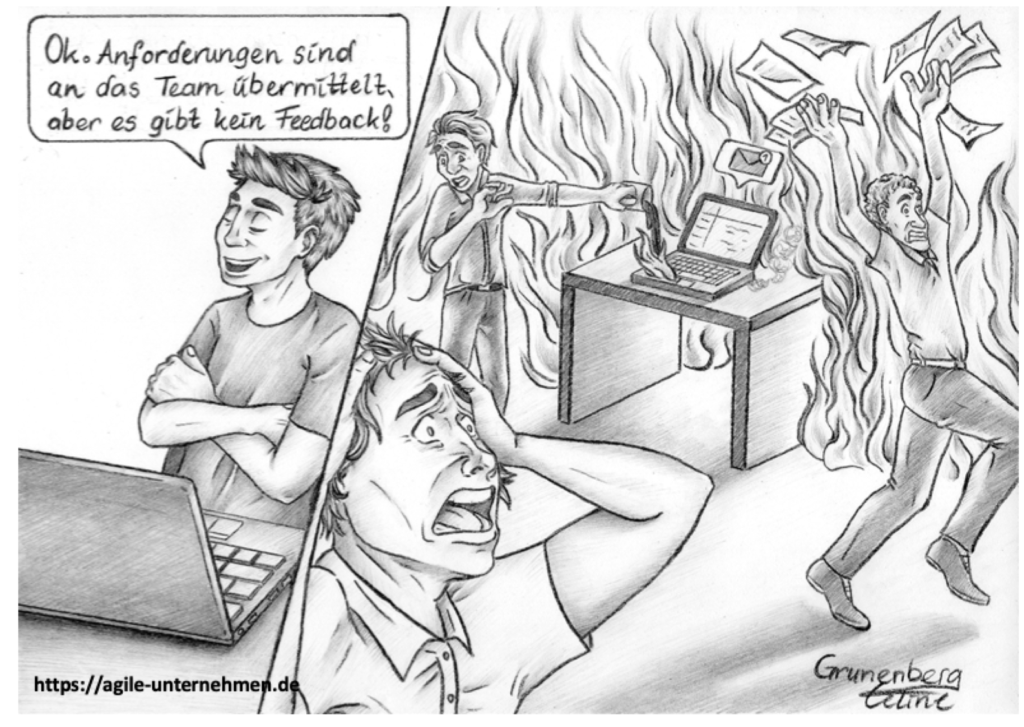 The problems with project boundaries and a lack of cooperation in medium-sized companies run deep
These The main disadvantage of approaches is that they are successful for Let individual departments derive, but only on a one-dimensional basis Level are really useful. Because silo thinking always means, above all, that the goals of the department and the company do not overlap 1: 1 and thus that holistic economic potential of a company is missed. Solutions are worked out in a productive manner, but often duplicate or are at the expense of other areas of the company. This ultimately results often a battle for budget and resources between individual departments. Low-risk decisions, emergency and isolated solutions are the result. Simultaneously Corporate divisions are increasingly moving away from each other. collaboration practically does not take place, innovative thinking is reduced to a minimum and potential is literally wasted.
But how deep does the breaking of project boundaries have to go at SMEs?
Promoting Cross-departmental communication and collaboration as well as reinforcement from exactly these points, however, not only on a physical level be targeted. Even on a virtual level, new ones are constantly emerging Challenges after significantly more interaction and communication desire. Because especially in virtual project management, Avoid situations like in Figure 2 only when paired with enough transparency with a shared sense of responsibility between the individuals Areas of responsibility of each team member prevails.
That means, that sub-areas are marked out, but no longer rigidly defined have to. Instead of just concentrating on your own areas of responsibility, are also virtually corporate instead of just using holistic strategies department-friendly solutions worked out.
What measures do SMEs have to take to achieve this?
So a Change management, away from the silo thinking, can succeed, must first and foremost trigger point must be set. And that is not infrequently the workforce self. Because silo thinking arises above all in the head of the individual employee, who tries to do his job in the best possible way – and this is exactly where the problem lies: Instead of looking for holistic solutions, is concentrated too much on one's own area of responsibility.
SMEs must therefore primarily start with their corporate identity and promote the establishment of a uniform culture of values. In this way, employees can be motivated to take off their own blinkers and contribute to a holistic transformation. This can be done in particular through measures such as the increased use of heterogeneous teams or the expansion of community-promoting workshops and further training. But the introduction of an intranet, open office areas and the introduction of agile methods also put people in the foreground and, in addition to promoting trust and motivation, also encourage a feeling of more initiative within the framework of joint solution strategies.
Image source: Pixabay
I offer guest articles and influencer marketing!
You have your own, interesting thoughts around the theme world of the blog and would like to share them in a
guest article
on my blog? - But gladly! You can thereby address customers and professionals. I also offer
Influencer Marketing
to support your brand!
Gendernote:
I have used the masculine form for ease of reading. Therefore, unless an explicit distinction is made, it always refers to women, diverse as well as men, and people of all origins and nations.
Read more
Spelling: I translated my German Blog to English - so you can also read my Recommendations. Please be sorry if this English is not so good.

Image-Source Titlepicture: Fotolia.de 2016 –
buyed License