What does the employee need and what does the respective situation require? If you want to achieve goals, you have to be able to control people flexibly, she says Computer week.  Because not only are the employees very different, but also the tasks that have to be mastered in everyday company life. The behavior of executives in managing their areas and employees must be correspondingly flexible, the magazine continues.
The more flexible the boss, the better the employees
This is the title of an article in of the world , which says: Managers are more successful, the more flexibly they react in day-to-day operations. Sometimes it is important to praise employees, sometimes to blame them. Sometimes active support is right, sometimes the manager has to consciously withdraw.
The magazine also says: In day-to-day operations, leadership is often reduced to giving instructions and giving feedback. The targeted development of employees falls by the wayside. And with that begins a vicious cycle. Because if managers do not encourage their employees again and again, they cannot transfer more and more complex tasks to them over time.
Situational leadership = digital or agile leadership?
This situational or agile leadership has 4 styles, between which the superior has to "jump" permanently.  So it depends on the level of maturity of the employee. There are 4 levels for this (source: the world ):
Level 1: When confronted with a new task, the employee is neither able nor willing to solve it (for example because he or she lacks the necessary skills).
Level 2: The employee is ready to take on the new challenge, but he lacks the necessary skills.
Level 3: Although the employee has the necessary skills for the new task, he lacks the necessary motivation – for example because he is still insecure.
Level 4: The employee has (for example, because he has already overcome similar challenges more often) the necessary skills to solve the task independently and is also ready to do so.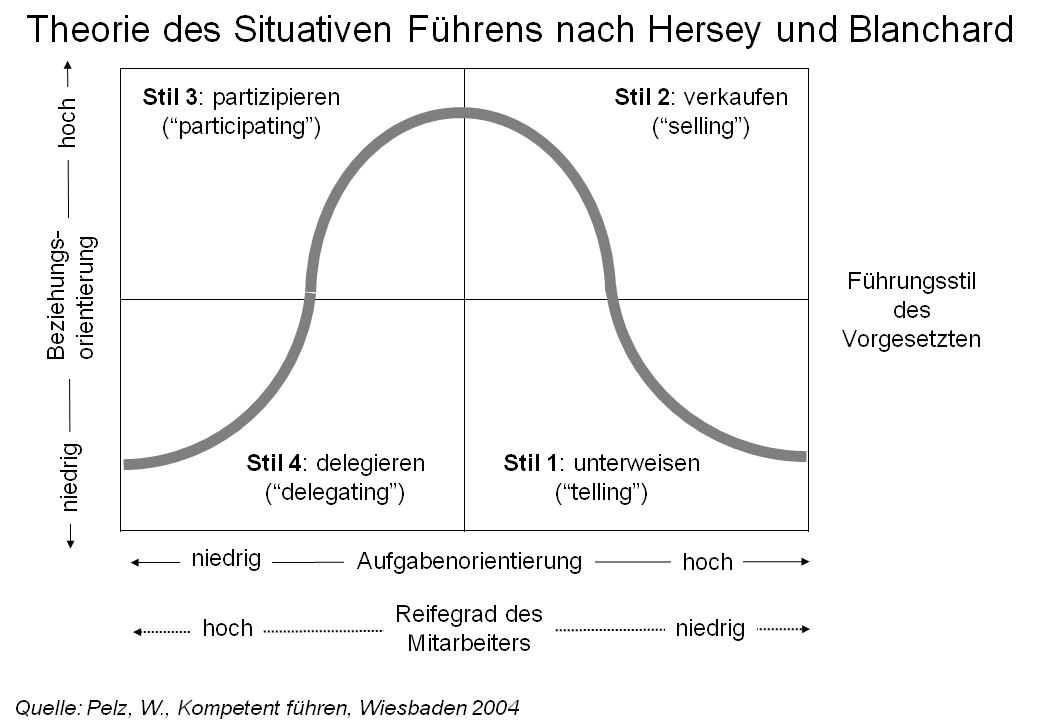 A manager should therefore choose a different management method depending on the employee's level of maturity. That means gradually deviating from Command & Control and more likely to convince the employee. If you look in Wikipedia, the 4 styles are described as follows:
Management style 1: If the employees have a low level of maturity, a high level of task orientation with a low level of relationship orientation is recommended. In other words: the supervisor should instruct ("telling").
Management style 2: If the employee has developed further (low to moderate maturity), it is advisable for the supervisor to use a strong employee-related and task-related management style at the same time. It is important to convince the employees ("selling").
Management style 3: With moderate to high maturity of his employees, the supervisor should lead strongly employee-related and at the same time less task-related and involve them in the goal setting or in decisions ("participating").
Management style 4: Very "mature" employees do not need special attention from their superiors, nor do you need to give them detailed guidelines regarding their tasks and behavior. In this case one should delegate responsibility ("delegating").
Is that digital or agile leadership?
After this model has been explained in detail, the question arises again and again: Is it agile and does it make us fit for the future in digital transformation? The first one can certainly be answered with yes, since a framework has now also been created for the manager. There are 4 styles a leader can move in. Whether it makes us fit for the future cannot be said for sure, but it shows that employees also become more flexible through flexible leadership. So it can go on  definitely not be counterproductive.
In the course of the next few months I will publish a few follow-up articles with concrete examples of how such a tour can take shape. I also explain Leadership 4.0 and the term digital leadership. Also take a look every now and then in the category " Digital leadership "whether there are new articles.

I offer guest articles and influencer marketing!
You have your own, interesting thoughts around the theme world of the blog and would like to share them in a
guest article
on my blog? - But gladly! You can thereby address customers and professionals. I also offer
Influencer Marketing
to support your brand!
Gendernote:
I have used the masculine form for ease of reading. Therefore, unless an explicit distinction is made, it always refers to women, diverse as well as men, and people of all origins and nations.
Read more
Spelling: I translated my German Blog to English - so you can also read my Recommendations. Please be sorry if this English is not so good.

Image source: 
People photo created by freepik – www.freepik.com
Image-Source Titlepicture: Fotolia.de 2016 –
buyed License