Digitization has a profound impact on everyday private and professional life. Companies are introducing a series of tools and new technologies to digitally support processes. In addition to their own resources, the companies also like to use external service providers. But that too is changing, as is the service provider Arvato states in his blog: The digital transformation creates new forms of cooperation in the company with external partners such as suppliers, consulting and IT service providers as well as with cooperation partners for the development and marketing of products and services. But how is such a new collaboration designed and what does that mean for German medium-sized companies? Does a classic IT service provider have to reinvent its business model or is it enough to turn a few screws?
Digital transformation in medium-sized IT companies
What tasks do outsourcing service providers and consultants have in the digital age? That question also has the Computer week already provided to medium-sized IT companies. The magazine notes that in most companies, outsourcing is an integral part of IT strategy, risk management and efficient operations. As a result of the digital transformation, what service providers provide in terms of sourcing services and consulting is becoming increasingly complex. This affects factors such as pricing, the duration of the sourcing partnerships and the mindset of those involved, as a discussion among providers, personnel service providers and consultants showed.
The magazine draws the following conclusion: Flexibility and the ability to foresee developments are becoming more important. Customers already want to recognize that their service provider is able to integrate technologies and services that are not yet known, according to one of the participants in the round table on which the article is based. Another participant relativized this statement: "We as service providers and consultants should – of course not without the appropriate competence and know-how – create a 'cuddle feeling' between digitization and our customers".
The digital era of agile medium-sized companies
So something will change in medium-sized IT or not? This is not quite clear from the article. For this reason I looked a little further and found one Article by Alain Veuve found who says: The consulting business is getting difficult. This is based on the following statement: When I founded my company for consulting on issues of digital transformation 4 years ago, the world was relatively simple: There were companies that advised customers strategically and conceptually, there were companies that implemented concepts and there were companies that did Solutions operated. Overall, there is a so-called old world for service providers, which according to the author is expensive and slow.
Old world: slow and expensive
Describing this ancient world, Veuve says: The sequence of strategy, conception, implementation and operation was and is for everyone plausible and traditional. But it has two fundamental disadvantages; it is extremely expensive for the customer and it takes a long time until something concrete sees the light of day. As a result, of course, everything was extremely expensive. The larger the consulting company, the higher the daily rates and the younger the consultant. What was and is of course a kind of magic formula for the consulting company depressed many customers.
This idea also sounds familiar to me from my career as a consultant. A service provider was often called in for each process step to support the customer in the waterfall model. The administrative effort is very high and to this day framework contracts are still awarded for certain areas with large service providers. Thus, service provider A is only allowed to carry out testing and operation and service provider B, on the other hand, can only design and test, etc.
New world: agile and fast
In the meantime, one can increasingly see that the websites of IT service providers are changing. You can read buzzwords like "agile service provider" or "agile enabler / companion of digital transformation". But are they really that agile and fast or is that just marketing?
Another question I keep asking myself is: How much agility do customers actually want? Veuve believes that many customers have at least such an approach in mind. In the vast majority of cases, many tenders and concepts are still being drawn up. But he believes that he recognizes that medium-sized IT companies as an industry are moving rapidly towards a Lean Prototype / Design Thinking Approach as the standard method of choice.
But one service provider can often not cover everything. Let's think of a small consulting house with 30 people. It is simply impossible to cover an entire IT process. A solution that I already have in the Consulting 4.0 article is: you enter into partnerships. So you offer the customer a complete and comprehensive service. As a service provider, I use other service providers to do this, but manage them in such a way that the customer does not notice it, with the focus on high added value for the customer.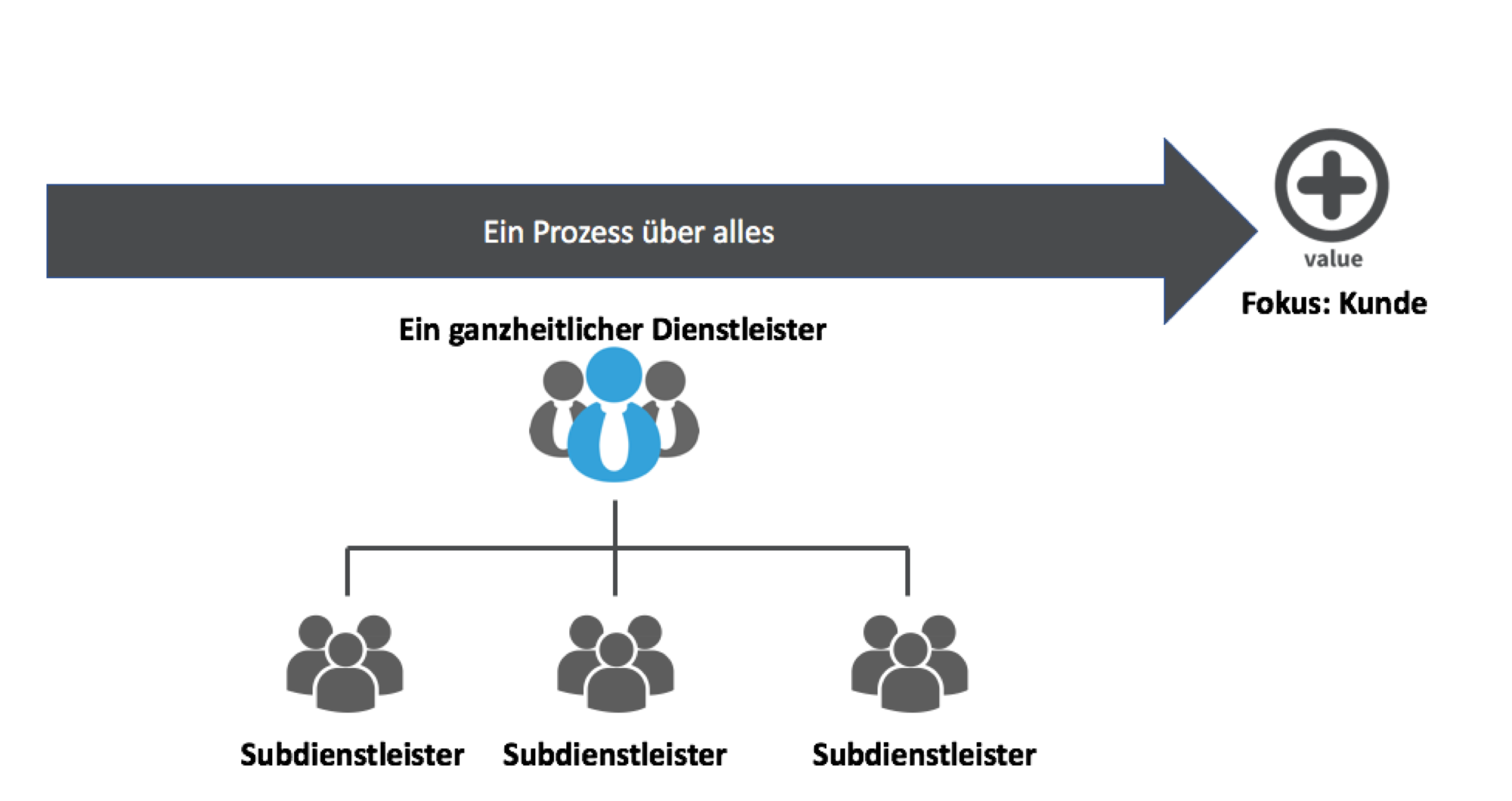 Conclusion: New forms of cooperation
So he pulls Service provider Arvato The following conclusion: The digital transformation leads to diverse – both technical and organizational – change processes in companies. The development of new business models, shorter technology cycles and the digitization of analog processes and data are just some of the challenges companies face.
Also Veue warns: Anyone who as a software service provider now has the feeling that this does not apply to them is wrong. The same shifts exist, simply in the opposite sense, also for pure implementation service providers. They too have to get used to taking smaller steps with smaller budgets and developing solutions that work economically.
Reading tip: Consulting 4.0 whitepaper
I think that a certain change is certainly necessary and that we certainly have to turn some of the adjusting screws for medium-sized IT companies. Basically, Arvato, Veuve, Computerwoche and certainly many other service providers think in this direction and I think that these statements are justified and that we should definitely question the current business in consulting. I think that the article was a first approach to understanding this phenomenon and that a framework has now arisen around the sentence of the agile IT service provider. I will update the article from time to time. Tell me at the end what your opinion is: How do you think medium-sized IT companies will change? Also note my other book suggestions to medium-sized companies.
[yop_poll id="19″]
I offer guest articles and influencer marketing!
You have your own, interesting thoughts around the theme world of the blog and would like to share them in a
guest article
on my blog? - But gladly! You can thereby address customers and professionals. I also offer
Influencer Marketing
to support your brand!
Gendernote:
I have used the masculine form for ease of reading. Therefore, unless an explicit distinction is made, it always refers to women, diverse as well as men, and people of all origins and nations.
Read more
Spelling: I translated my German Blog to English - so you can also read my Recommendations. Please be sorry if this English is not so good.

Image-Source Titlepicture: Fotolia.de 2016 –
buyed License