In times of digital transformation, the buzzword restructuring is on everyone's lips. For the workforce, this means more pressure and fear of losing their job. "I was brought in to restructure here" is what many bosses say. Even I am currently experiencing constant change in my professional life. But change doesn't have to be bad, because as in the 3. Round table has been said:
People are not fundamentally against change. They just don't want you to be changed.
So it is not important to change people through cost savings or more pressure, but to adapt the organization to the workforce. Many magazines are currently talking about agile and digital organizational development. In the article I will try to describe both terms and see how such an organizational development could develop.
[yop_poll id="13″]
Agile organizational development
Agile organizational development should provide an answer to how it is possible to break down hierarchies, streamline processes, promote innovations and make employees happier. For this purpose, the 2. Round table a concept formed by the participants. So it means that areas with less agility inside the company as a central service provide quite standardized services for the rest of the organization.
Furthermore, all participants agree that agility cannot scale and is almost always inflexible above a certain size. All other areas should therefore be divided into smaller teams. From a certain decrease in flexibility, a new, fresh team can be formed, which is networked with all other teams. But what comes next? Many small teams that can hardly be controlled by management? Control itself does not have to be bad, because in addition to a high level of trust, it is still important to ensure that the teams act in accordance with the corporate goals. According to the participants, digital organizational development provides an answer to this.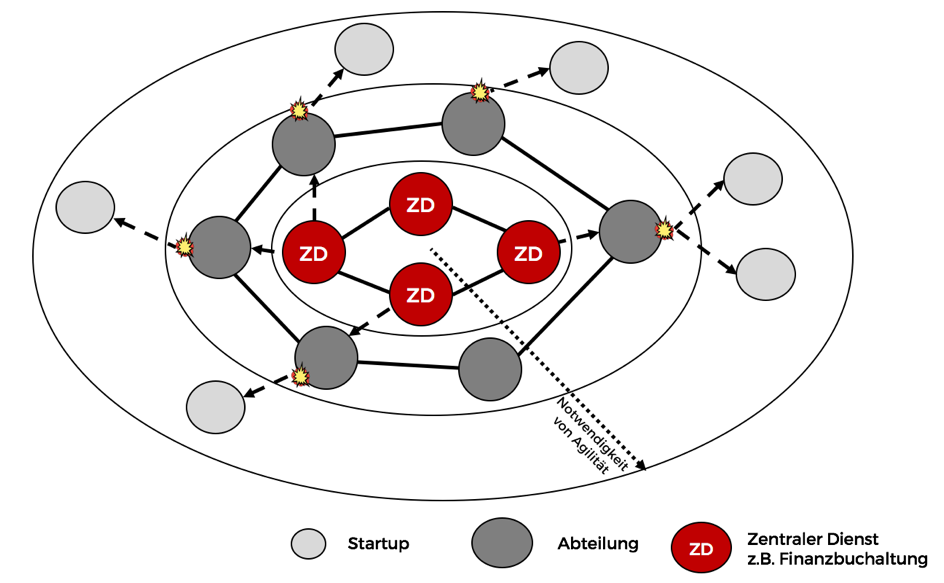 Digital organizational development
In their contribution to the knowledge workplace of the future, Urbach and Ahlemann (2016) say: Since the knowledge workplace of the future has far-reaching consequences for IT management, its implementation requires structured change management at all levels. Both employees and management are affected, both on the IT and on the business side. Management must understand and accept that social media and new communication and coordination mechanisms in particular can lead to a loss of control. Not everything can be planned and controlled any more and a strong (trust) culture should take the place of formal rules and processes.
Furthermore, Urbach and Ahlemann (2016) describe the model as follows: The changes are even more far-reaching for IT management. A large number of structures and processes have to be converted or newly established, which requires a willingness to take risks and entrepreneurial thinking and action. Employees also have to be willing to change. In business, the new forms of collaboration and the greater degree of autonomy require trust in management and IT. In addition, it is good if employees accept that there can be failures in the initial phase of the change process. The same applies to the IT staff; Here, too, the willingness to get involved in new processes and technologies is expected.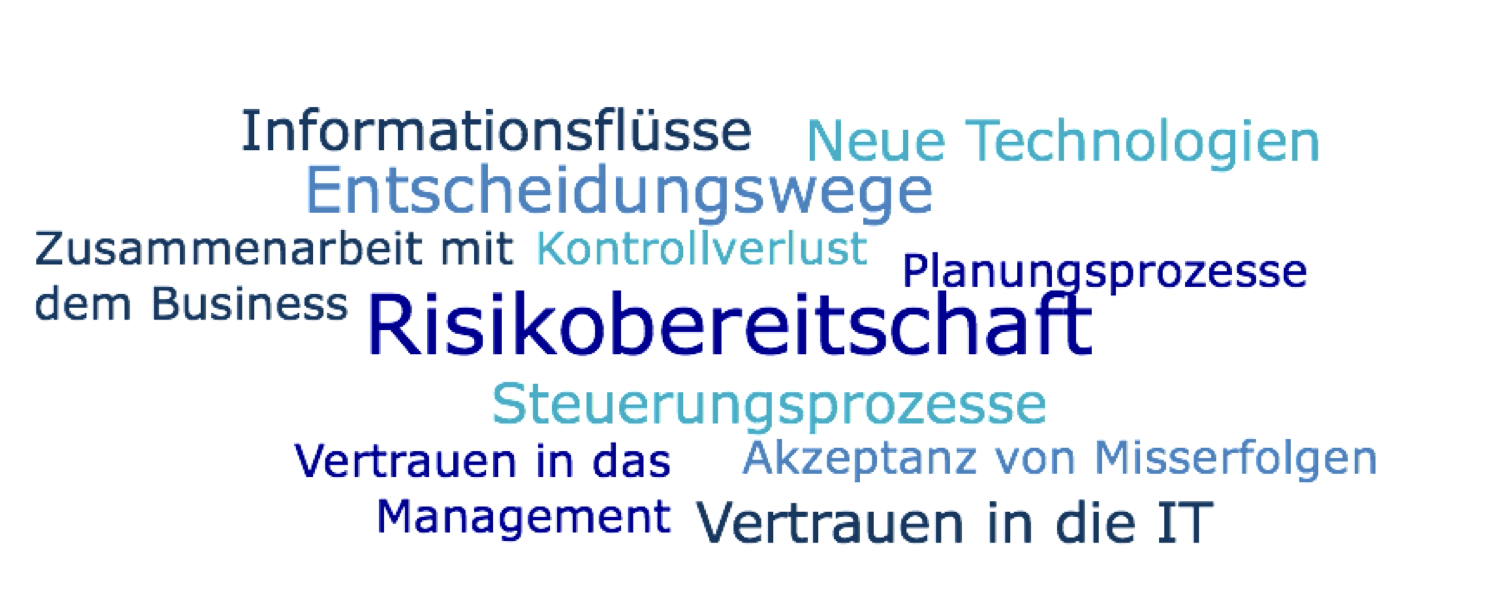 Urbach and Ahlemann (2016) have also developed a model for developing a roadmap for digital organizational development and describe it as follows: We propose a three-stage procedure for this. The first step is to optimize the existing architecture. To begin with, no far-reaching changes to the organizational and IT architecture have to be made. Rather, it is first and foremost about the realization of "quick wins", ie projects that lead to visible, improved results quickly and with little effort. This could include, for example, the harmonization of identity management, selective improvements to user interfaces in the area of critical systems or the introduction of a bring-your-own-device approach.
Only in the second step is the establishment of new architectures, structures and processes in the foreground. To this end, an overarching strategy for the knowledge workplace of the future must first be developed and appropriate governance principles established. Another focus in this phase is the definition and establishment of new development and management processes.
In terms of continuous further development of the knowledge workplace of the future, the implementation of innovation management is also recommended. The third step then comprises ongoing innovation activity. In this context, the technology development is continuously screened and user behavior is monitored. Additional requirements are raised in dialogue with the users. The information obtained is then used to create a proactive, fast and continuous range of workplace-related IT services. Take a look at this for more Book by Niels Urbach .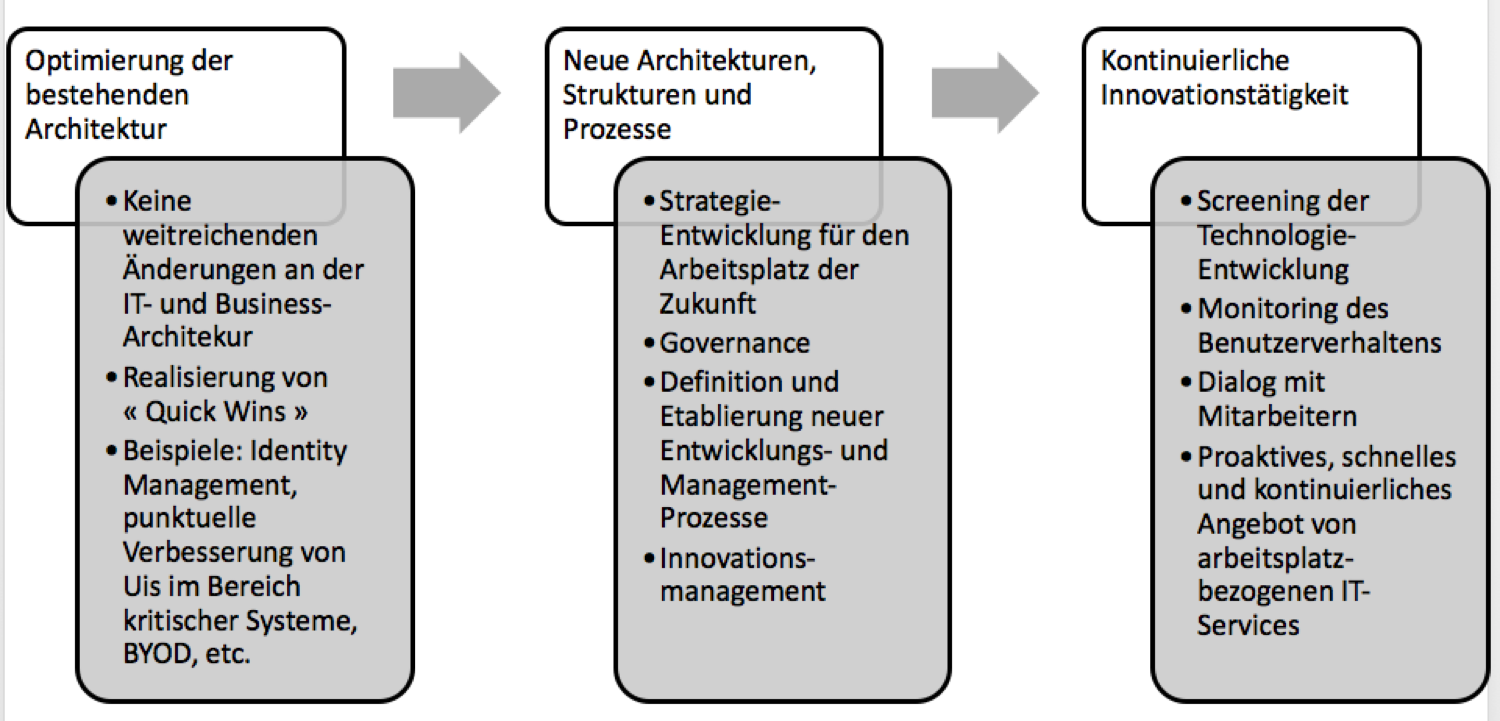 Conclusion: IT as an enabler for agility
Regardless of whether it is agile, digital or holacratic. In the modern age, people should be the focus of an organization and technology should support them as an enabler for agility. Like cells, companies should consist of many small units that are permanently divided. I am often asked how a company can grow without losing agility and building up too much bureaucracy. My answer is summarized here in the article and says: Then let's not even let it get that big, but share it beforehand. We achieve control and networking through the targeted use of digital technologies.

I offer guest articles and influencer marketing!
You have your own, interesting thoughts around the theme world of the blog and would like to share them in a
guest article
on my blog? - But gladly! You can thereby address customers and professionals. I also offer
Influencer Marketing
to support your brand!
Gendernote:
I have used the masculine form for ease of reading. Therefore, unless an explicit distinction is made, it always refers to women, diverse as well as men, and people of all origins and nations.
Read more
Spelling: I translated my German Blog to English - so you can also read my Recommendations. Please be sorry if this English is not so good.

Verwendete Quellen anzeigen
Urbach, N., & Ahlemann, F. (2016). The knowledge workplace of the future: trends, challenges and implications for strategic IT management. HMD – Praxis der Wirtschaftsinformatik , 53 (1), 16-28.
[/expand

Image-Source Titlepicture: Fotolia.de 2016 – buyed License