Of the digital change has arrived in companies and forces them to request more and more computing power. One solution is what is known as cloud computing. But what is cloud computing? Before the turn of the millennium, Germany was still completely free of the cloud! Manufacturers have only been offering dedicated solutions for the cloud for a few years. But what is cloud computing? If you look in Wikipedia you will find the following:
Cloud computing describes the provision of IT infrastructure such as storage space, computing power or application software as a service via the Internet. In more technical terms, cloud computing describes the approach of making IT infrastructures available via a computer network without these having to be installed on the local computer (source: Wikipedia ).
What is cloud computing – service models
There are three different service models, some of which overlap. These are: infrastructure, platform and software. All 3 models are described and summarized below.
IAAS – INfrastructure as a Service
This is a virtual data center. In concrete terms: virtual computers, storage and networks. The users themselves are responsible for what is in the virtual cloud. IaaS is therefore the lowest level in cloud computing. A well-known provider is the Amazon Cloud.
PAAS – platform as a service
But cloud services include more than just calling up computing power or storing data. Thus, a complete environment can be bought through PaaS. So the cloud serves as a development environment. With PaaS, software developers develop their own software applications or test them in a provided environment. One example for PaaS, among others, is Windows Azure. The advantage of this method is the flexibility of the tools. The IT expert can work anywhere. He can also simply use any tool from the Internet or install it flexibly on the platform.
SAAS – Software as a Service
This is the most popular variant for end users. Software is made available for a monthly fixed price. Well-known examples are Microsoft Office 365 and Windows Intune. SaaS is the most common form and many of us are already using it. Sometimes even without knowing it. The following figure summarizes the service models.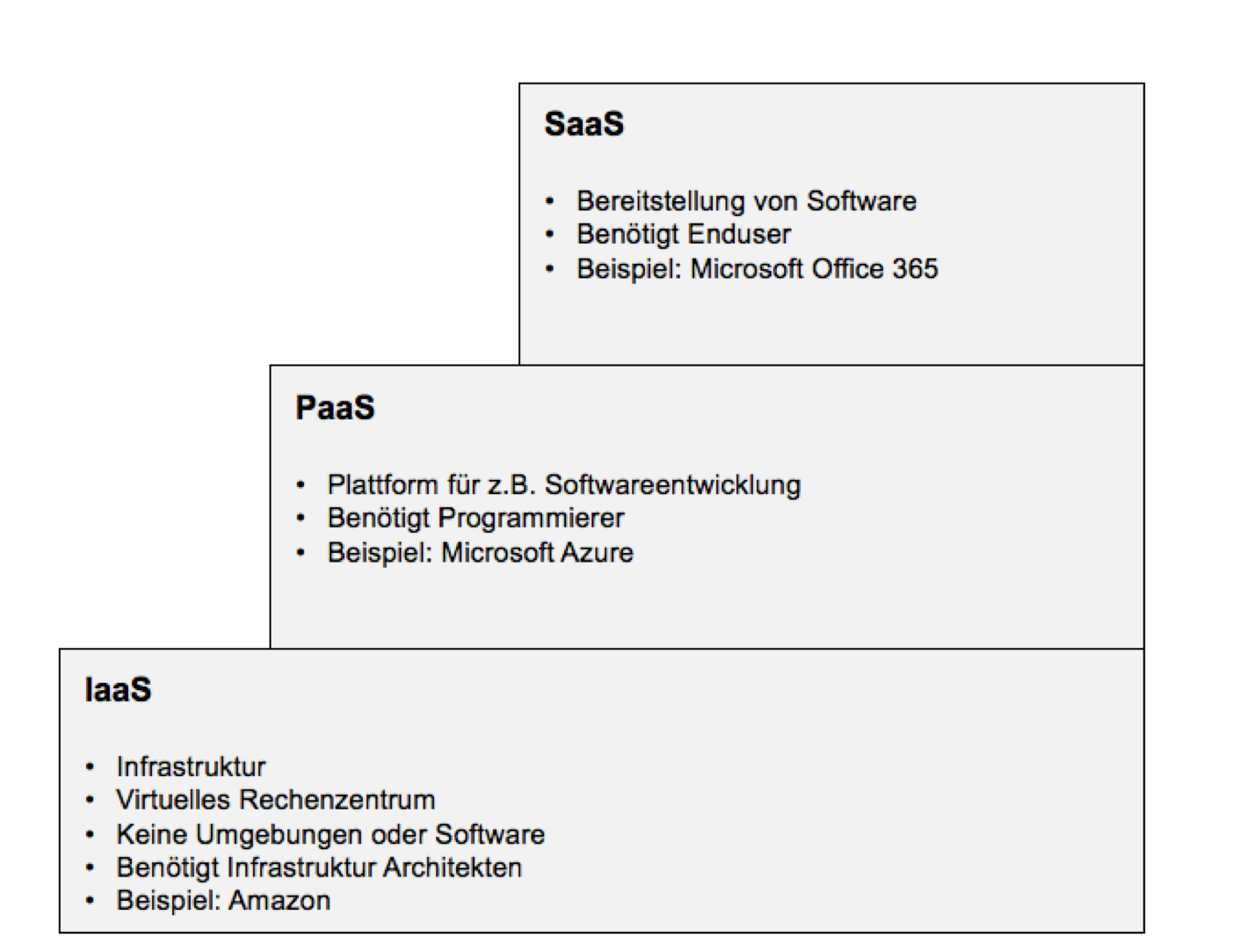 What is Cloud Computing – Delivery Models
There are also delivery models for cloud computing. In other words, the way the services are provided. These are explained below. Each of the mentioned service models (SaaS, …) can be provided via any cloud.
Public cloud
The public cloud is a provider's public cloud. This cloud is therefore freely accessible to every user. A good example of this is Google Docs or Microsoft Office 365. So you are in the cloud with many other users. Both examples are SaaS in a public cloud.
private cloud
The private cloud differs in that it is exclusively assigned to one company. So there are no other users on this one. This makes data protection and compliance easier to guarantee than in public clouds. If a company buys a platform (PaaS), this is usually made available in the private cloud. This is often company-specific software or an intranet.
Hybrid cloud
The hybrid cloud is a hybrid. For example, certain services run by public providers over the Internet, while data protection-critical applications and data are operated and processed in the company. This can save money as not all applications have to run on the expensive private cloud.
Community cloud
The community cloud is very rare. These are infrastructures of several companies, for example in the context of a project that is operated jointly or between suppliers. So certain services can be shared. In summary, the following models can be derived:
Public cloud: accessible to everyone
Private cloud: just one company
Hybrid: mixed form
Community Cloud: selected companies
The cloud in medium-sized businesses
But has the cloud already established itself in medium-sized companies? It is often said that the trends around digitization and Industry 4.0 be seen rather waiting in the middle class. I list a few below Facts from a study by the Crisp Institute (2015 – survey of 222 medium-sized companies) on:
25.2% use the cloud productively
32.9% try the cloud in the form of test versions
27% are actively involved in the cloud
14.9% do not deal with the cloud
Furthermore, it can be seen that the majority of medium-sized companies that use a cloud use a hybrid (25.9%) and public (27.5%) cloud. Only 12.7% use a multi cloud and 33.9% a private cloud. The figures show that the first small penetration of the cloud can apparently be noticed in medium-sized companies and it remains exciting to see how this will further establish itself in the future.
Conclusion: what is cloud computing?
Cloud computing is the virtual provision of computing power. This can be done in 3 models (service models). A complete infrastructure, platform or software. These models can be delivered in 4 different clouds (delivery models). The public cloud for everyone, the private one for a company, a cross-company (community) or a mixed form. Incidentally, I did not invent the division into service and delivery models myself, but rather it was dated 2011 National Institute of Standards and Technology (NIST).
In medium-sized companies, the cloud is becoming established slightly, but it is still hesitant, which makes it exciting to see what will happen to medium-sized companies about the cloud in the next few years. Attached is a video with a pictorial explanation of the cloud.
Tip: Book suggestions to cloud computing

I offer guest articles and influencer marketing!
You have your own, interesting thoughts around the theme world of the blog and would like to share them in a
guest article
on my blog? - But gladly! You can thereby address customers and professionals. I also offer
Influencer Marketing
to support your brand!
Gendernote:
I have used the masculine form for ease of reading. Therefore, unless an explicit distinction is made, it always refers to women, diverse as well as men, and people of all origins and nations.
Read more
Spelling: I translated my German Blog to English - so you can also read my Recommendations. Please be sorry if this English is not so good.

Verwendete Quellen anzeigen
Image-Source Titlepicture: Fotolia.de 2016 –
buyed License