Management complexity has been around since digital transformation brought back into focus. How can companies deal with the increasing complexity and dynamism of markets? How can modern leadership and structure be established in companies and how can we reduce complexity with the help of special methods. According to the author Niels Pfläging, corporate structures should be just as lively as markets. But what does he mean exactly and how is complexity reduced in practice?
Why is there complexity in management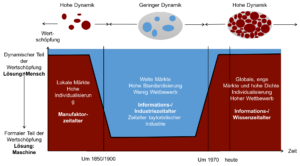 Why did it get so complex? What were the triggers and why wasn't it like that "earlier"? For this I found the picture above. It seems that this dynamic has only slowly increased since 1970 and has peaked again in the past few years. The reasons for the high density and the increase in competition appear understandable. In addition, many authors mention the digital transformation, Industry 4.0 and Big data . Take a look at the book "Organizations for Complexity" by Pfläging! or in the article " Frameworks for agility ".
What actually is complexity?
Simply systems contain few elements, are stable and predictable. So you have a unique behavior. Chaotic systems are characterized by many elements, extreme dynamics, many relationships and a lack of "cause-effect" relationships. So no patterns can be formed.
Complicated systems are understandable. Their behavior is predictable and it is often just a matter of what information is available to understand. The system consists of many logical parts. This can be an extensive algorithm, for example.
Complex systems are open-ended. Their behavior is unpredictable and the unexpected determines their development. The system consists of many elements whose behavior cannot be planned. The system is therefore full of contradictions and always has several options for behaving.
Facing complexity in management
Complexithodes
In 2015 Niels Pfläging wrote the second book "Complexithodes". According to their own statement, 33 methods to reduce complexity in management are presented. Take a look at the book by Pfläging! In the next paragraph I evaluated these methods with 16 companies and came to an interesting result.
Practical examples
I saw results in the first interviews and case studies. Organizations have to change permanently, according to the test persons, these changes are becoming more and more complex and radiate more and more uncertainty on the employees. The experts gave me 4 methods with which to counter this complexity:
Reduction of complexity through:
Creation of transparency and distribution of responsibility,
experienced staff and "department heroes",
positioning and restriction to certain criteria as well
IT tools and technology.
In the further course I investigate even more methods to reduce complexity. I am also looking into the question of how far we should reduce complexity at all. It was already clear in the first interviews that reducing complexity too much can also be negative.

I offer guest articles and influencer marketing!
You have your own, interesting thoughts around the theme world of the blog and would like to share them in a
guest article
on my blog? - But gladly! You can thereby address customers and professionals. I also offer
Influencer Marketing
to support your brand!
Gendernote:
I have used the masculine form for ease of reading. Therefore, unless an explicit distinction is made, it always refers to women, diverse as well as men, and people of all origins and nations.
Read more
Spelling: I translated my German Blog to English - so you can also read my Recommendations. Please be sorry if this English is not so good.

Verwendete Quellen anzeigen
Pfläging, N., & Hermann, S. (2015). Complexithodes: Clever ways to (re) enliven companies and work in complexity . Munich: Redline Verlag.
Pfläging, N. (2014). Organization for complexity . Munich: Redline Verlag.
http://image.slidesharecdn.com/reconfsusanne-140415073434-phpapp01/95/agilitt-im-systems-engineering-geht-das-12-638.jpg?cb=1397547757
Image-Source Titlepicture: Fotolia.de 2016 –
buyed License