Few topics are discussed as often in the course of NewWork as the term home office. At least that's how loud they should be my research partner 1-2 days a week will become the absolute rule in companies. I am also lucky enough to be able to work from home regularly and officially.
[yop_poll id="39″] In this text I would like to give my tips on working in the home office. In addition to these, I present the results of a study from 40 employees, which of the Student Paul Niebler performed for me as part of his master's thesis. We selected random people and almost half, i.e. 18 respondents, said they had this privilege at their company. Another 6 respondents were not sure.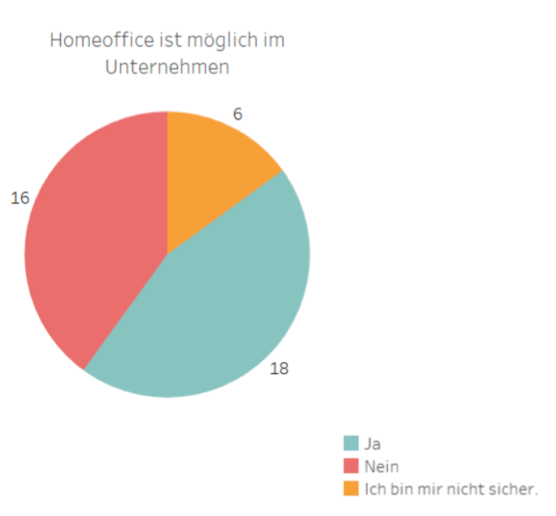 Choice of day and frequency
If you want to work from home, the first step is obvious: Talk to your boss and your team whether and how home office is possible. Appropriate approval or approval is an elementary step.
Set yourself a day. This can be regular or irregular. For example, I always work from home on Mondays or Thursdays, depending on the schedule. I rarely have direct meetings on these days and don't plan any meetings on that day, if possible.
I work from home for a maximum of 2 days a week, otherwise you lose contact with the company. I also have a lot of management tasks that require communication. This is also reflected in the results of our study: It was found that the majority usually only work from home for 1 day per week. On the other hand, more than half of them do not use the home office offer and many respondents often want far more home office.

Choice of tasks in the home office
Every week I prepare tasks that I want to do in the home office. Especially when I work from home on Thursday, I try to collect various tasks from Monday to Wednesday. Here are some examples that are perfect for the home office:
Sort Jira board and view and create Jira tasks
Revise wiki pages and write documentation
telephone extensively with remote employees
create a powerpoint
In the home office, on the one hand, you are mostly quiet and, on the other hand, you are a little more cut off from communication than in the company. There are therefore always certain types of tasks that are suitable for the home office. So these are usually jobs that require little communication.
Reading tip: Opportunities of digital work
Looking at the study, most of the participants also do a lot of individual work. However, there is also a clear tendency towards teamwork. We noticed that this strongly depends on the technical equipment, since chats, video telephony and VPN as well as tools like Jira are important for this.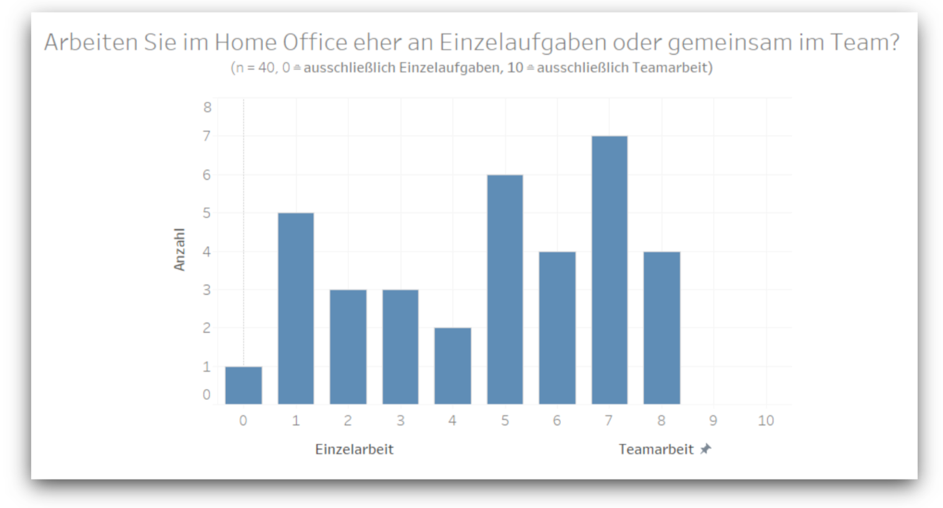 You also have to ensure that you can securely connect to your workplace and thus use all functions. Not all respondents can use the company's full range of tools. However, I'm lucky and can connect to our network via VPN.

Technical Equipment
So we come to the real point: the technical equipment in the home office. I myself have a quiet alcove with a plant, ergonomic mouse / keyboard, comfortable chair and an iMac. There I have enough peace to work. As I work for my doctorate and often on weekends, equipping my workplace at home has always been very important.
Reading tip: Equipment in the home office
The majority of the participants also have quite good technical equipment at home, which in some cases is even better than in the office. Laptops, smartphones and tablets in particular are widespread in the home office. I find it funny that there is even a fax machine in the home office, but far fewer people with 2 screens.

Summary: advantages and disadvantages of working from home
Home office is a privilege in German companies and is still far from everywhere. I really enjoy it and it makes me a lot more productive. However, my company has both the technical equipment and a home office culture. I have also set up a suitable workplace for myself at home.
See the figure below for a summary of the study. Home office is therefore largely used for uninterrupted work and TelCos. The advantages are the compatibility of leisure and work as well as the gain in time (you save the commute). Disadvantages are of course the loss of communication in the company and the penetration of work content into the private environment.
I believe that working from home is a perfect complement to everyday work for 1-2 days a week and that it makes employees more productive and satisfied. Of course, not everyone is a so-called "home office" type, as work at home can also be distracting. It will therefore always be an optional offer in every company. I hope that the study and my tips have given you a few ideas about working from home and look forward to your comments. Below is the abstract of the study. Many thanks to Paul Niebler, who did a very good job.

I offer guest articles and influencer marketing!
You have your own, interesting thoughts around the theme world of the blog and would like to share them in a
guest article
on my blog? - But gladly! You can thereby address customers and professionals. I also offer
Influencer Marketing
to support your brand!
Gendernote:
I have used the masculine form for ease of reading. Therefore, unless an explicit distinction is made, it always refers to women, diverse as well as men, and people of all origins and nations.
Read more
Spelling: I translated my German Blog to English - so you can also read my Recommendations. Please be sorry if this English is not so good.

Verwendete Quellen anzeigen
Image-Source Titlepicture: Fotolia.de 2016 –
buyed License