"Work when, where and how you want" is more than a startup vision from Silicon Valley. Even large corporations such as Microsoft, Daimler, Siemens, Adidas, Datev and numerous medium-sized companies are carefully considering how Work 4.0 will be organized in their companies. Concepts such as bring your own device, home office and new types of office concepts are the consequence of the digitization of work.
Already in my round tables I noticed that company agreements and legal framework conditions are currently making agility and digitization more difficult. in the 3. Round table That is why the IT (employees) board member of one of Germany's largest trade unions gave us an initial insight into the status quo: "It is by no means the case that we want to prevent Work 4.0, but we are already far too agile in defining guidelines and mobile work and are even conducting studies on it. "
Overall, legal framework conditions and legal requirements were an annoying topic for many of my participants, but especially necessary and important for Work 4.0 – after all, it should be about people. But it is often difficult to get an overview of the legal framework.
A few days ago I have the book by Britta Redmann about this Agile working in the company discovered that gives insights into the topic. In the following I would like to briefly summarize the content of the book. At the end of each chapter there is a legal checklist, which I also show in extracts under each sub-chapter.
In this article I was only able to cover part of the content of the book for a very short time. My goal was to give an overview of all dimensions of agility in the workplace and an initial orientation of what needs to be considered in each area. If you want to know more about the individual points, I recommend reading the book or contacting Britta Redmann directly.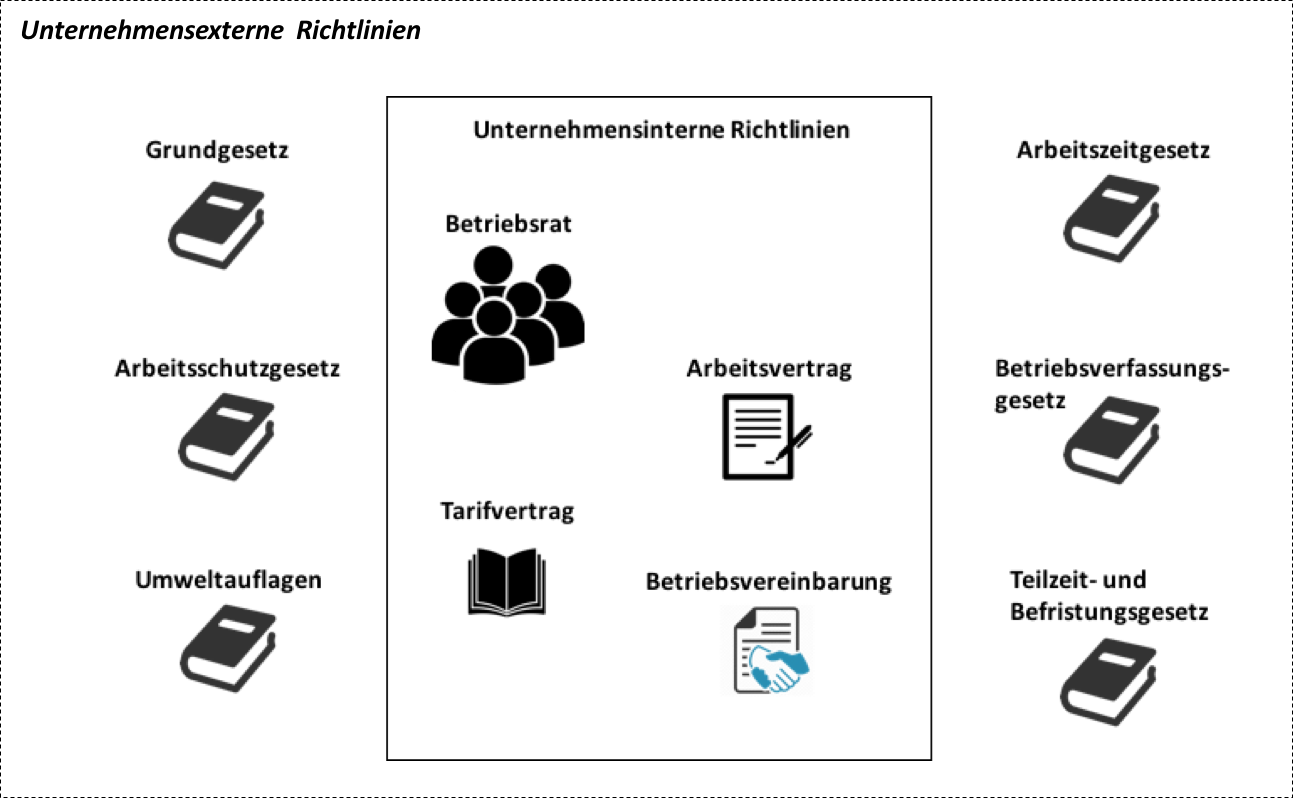 AGILE WORKPLACE
"Home office, free choice of work place and the like – is that just the way it is?" Many employers ask themselves. What if my employees ask to work from anywhere and how is home office actually regulated?
There is a passage in the book that the employer is always authorized to issue instructions with regard to the place of work. Of course, there are exceptions here too, but this also applies specifically to the home office. Legally, a home office is a permanently set up computer workstation in the private area of the employee that is equipped by the employer. However, this represents the case that an employee is forced to work from home in the case of teleworking or for other reasons. In practice, however, it is the other way around, says Redmann. Most of the time, employees want a home office. In any case, a passage about this should be specified in the employment contract.
The situation becomes far more complex as soon as the employee can and should / want to work from anywhere. As a rule, the employment contract stipulates a place from which the employee normally has to work. On the one hand, this protects the employee from an improper work environment and, on the other hand, occupational safety laws prescribe the work environment. Therefore, a special clause in the employment contract is necessary for mobile working. The assumption of costs for the home office and mobile work devices should also be clarified. The works council can and should also be involved, according to Redmann, when it comes to protecting the protective rights of employees, e.g. health protection, occupational safety and data protection. In certain cases, mobile work can even be rated as a transfer, which means that the works council must give its consent. Data protection should also be clarified when working on the move. Detailed information and checklists can be found in Britta Redmann's book.
AGILE WORK SPACE
New office concepts and open spaces are often the result of the design of New Work or Work 4.0. According to most of my practice partners, the office should be just as agile as work, and you can see that it works! But what should you watch out for? There is also information on this activity-based work (example: relaxation areas, team areas, …) in Britta Redmann's book.
The Occupational Safety and Health Act always applies across the board and, in the case of established rules such as B for rest areas, the works council and employees are also entitled to co-determination. Of course, environmental protection always applies. Changes to office space require the involvement of the works council and if the change in the environment also has concrete effects and changes to the activity, the works council may even have to agree. He also has a right of co-determination, insofar as rules of conduct are drawn up, for example in open-plan offices.
It is important that the works council is involved in any change in the workplace, says Redmann. In particular, an agile workspace can also change the activities of the employee and the works council might even have to agree to this.
AGILE WORKING HOURS
Agile working hours go hand in hand with the flexibilization of the workplace. "Work when you want," says the New Work demands and is therefore an important aspect of the digitization of work. This topic is also included in the book.
According to the current state of knowledge, flexitime, trust work and the like definitely require an individual agreement between employees and the company. Especially with the variants flexitime and trust-based working hours, there are already numerous legal options for structuring working hours flexibly, says Redmann.
What many of my practice partners from medium-sized companies are striving for is a completely open 24/7 working time under the premise "The main thing is that the results are right". Here Redmann points out that the Occupational Safety and Health Act must be observed and that there is also a labor law duty of care towards the employee. Many collective agreements also contain a ban on Sundays and public holidays, as well as break times and night shift regulations. The company must definitely ensure the protection of the employee against overload. Nevertheless, there is already the possibility of making individual agreements in, for example, employment contracts that are compliant with the Occupational Safety and Health Act and still enable mutual needs for flexibility. There are also numerous existing company models for flexitime and trust-based working hours.
AGILE ACTIVITIES
From corporations to startups – agile working dissolves rigid positions and employees can, in extreme cases, even take on new roles in the company on a daily basis. It is also evident in my roundtables that this leads to high speed and flexibility in the company. But here, too, the question from my practice partner arises: Can I just do it like that?
Redmann points out in her book that the right wording in an employment contract can facilitate and support the flexibility of roles. Existing employment contracts can be reformulated with the employees and new employees can get relevant passages directly into the contracts.
In such a passage, an operational framework must be determined that is compatible with an existing collective agreement. Forms of temporary employment have also changed significantly in recent years and numerous new forms of work can be found in companies. In addition, Redmann points out that in the case of temporary workers and freelancers, it is essential to avoid pseudo self-employment.
AGILE WORK METHODS
Scrum, Kanban, XP: There is a wide range of agile methods. These should become state-of-the-art especially in IT and are also being tested by my practice partners in non-IT departments. So there are approaches of agile HR , distribution , production or marketing in the companies of my practice partners. But what does the German law say? Can I just introduce Scrum?
First and foremost, Redmann shows that agile working methods can be introduced by the employer. Here, however, it is just as important to convince the employee of the introduction and not simply order it "by order mufti". If necessary, the works council's rights of co-determination can be affected, e.g. if the agile methods change work areas and processes so much that a legal change in the company can be assumed.
When agility is introduced, not only the work steps change, but also the organizations and the collaboration. Here, especially in collaboration systems, the employee's personal rights must be respected. He himself can decide which private information he wants to put on it. A special instruction on the networked exchange of information can also violate the employee's rights. Clear framework conditions tend to support a collective exchange and help to avoid misunderstandings. Here, too, the credo of conviction applies to win employees over to a networked exchange instead of motivating them to do so through work instructions.
AGILE PERFORMANCE MANAGEMENT
Annual appraisals, performance appraisals and feedback discussions shaped the digitization of work. But what about when retros, dailies and reviews replace them and networking generates real-time feedback? Can I just abolish the annual appraisal because the employee automatically receives feedback every 2 weeks through Scrum?
Performance management in an agile context is different because the focus here is on the team and collaboration. This has an effect on the "concept of performance", according to Redmann, so that companies should grapple with what, for them, everything includes performance in the context of agility. The employee's personality must be protected, especially when it comes to feedback and performance measurement. In particular, bullying and discrimination against employees must be ruled out. Here it makes sense to establish clear rules as to how and for what purpose feedback is used.
One possibility is to communicate clear requirements for culture and performance to the employees and to set up clear rules that clarify the use of feedback. Especially when it comes to team decisions such as B. The works council must be involved in the bonus structure.
CONCLUSION on the digitization of work
Work 4.0, agility and the digitization of work are not an easy undertaking. Even the implementation in the company through renovation and the necessary change management makes managers sweat.
The article shows that in addition to the points mentioned, there are numerous legal questions that must be considered. It is clear that these laws are primarily there to protect the employee and not to prevent Work 4.0.
In this article I was only able to cover part of the content of the book for a very short time. My goal was to give an overview of all dimensions of agility in the workplace and an initial orientation of what needs to be considered in each area. If you want to know more about the individual points, I recommend reading the book or contacting Britta Redmann directly.
For me, I have learned that in addition to the numerous framework laws, a lot can also be covered by an individual agreement with employees. So it is worthwhile to convince them of the concepts of work 4.0 and agility, because as Britta Redmann says: "Agile law follows agile culture."
Reading tip: Book by Britta Redmann

I offer guest articles and influencer marketing!
You have your own, interesting thoughts around the theme world of the blog and would like to share them in a
guest article
on my blog? - But gladly! You can thereby address customers and professionals. I also offer
Influencer Marketing
to support your brand!
Gendernote:
I have used the masculine form for ease of reading. Therefore, unless an explicit distinction is made, it always refers to women, diverse as well as men, and people of all origins and nations.
Read more
Spelling: I translated my German Blog to English - so you can also read my Recommendations. Please be sorry if this English is not so good.

Verwendete Quellen anzeigen
Redmann, B. (2017). Agile working in the company: Legal framework and legal requirements. Lots of Lexware
Image-Source Titlepicture: Fotolia.de 2016 –
buyed License